FORMER QUEENSRŸCHE GUITARIST CHRIS DEGARMO TEAMS UP WITH HIS DAUGHTER RYLIE TO FORM THE RUE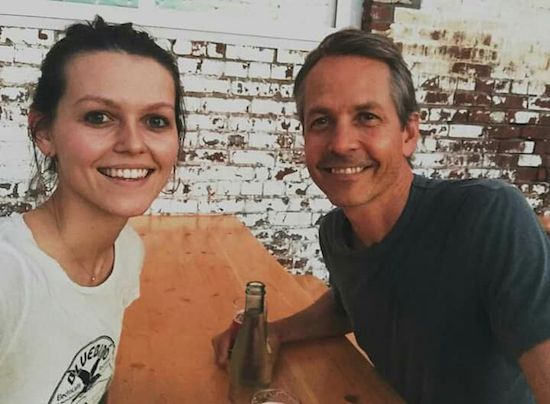 Christina Titus of Billboard reports:
…Although, [former Queensrÿche guitarist Chris DeGarmo] just turned 52 on June 14th, Chris has never forgotten [the] magic of discovering music. And as a father, he naturally wondered if his daughter Rylie and younger son Preston would also pick it up. So when Rylie, 22, joined a vocal ensemble while she was in high school, he kept tabs on her activities, but he didn't push her about it — he'd shown her a few things on the piano when she was younger, but he never gave his kids formal music lessons…
..Just the same, when she heard him noodling on an acoustic one day when she was around 15 and said, "Wow, Dad, that's really cool. I think I've got something for that," Chris admits, "I'd just been waiting years for that."
That was the spark for them to start casually collaborating as time permitted between Rylie's school schedule and Chris' profession as a private jet pilot, which he embarked on after leaving Queensrÿche in 1997. Years later, their shared love of music has resulted in their debut recording as The Rue.
Available at TheRueMusic.com, the six-song EP was created in Chris' basement studio at their Seattle home. It's driven by Rylie's voice (she has a clear, confident tone and precise phrasing that belies her age) and graceful melodies backed by less-is-more instrumentation..
…Rylie says she was "kind of raised on The Beatles and Led Zeppelin and some classics," and she started gravitating toward jazz, namely Billie Holiday, when in early high school. "That's also kind of where the confluence of my dad and my musical interests sort of started happening too, and that just spiked my interest in music even more, the fact that I could make it with my dad," she recalls.
A lot of young women wouldn't feel comfortable singing about love and longing when their dad is backing them on guitar. But Rylie, a French studies major who's currently residing in Paris as she completes a marketing internship, describes their relationship as "best buds…"
..So far the pair has done just a few low-key gigs. But since she's nearing the end of her formal education, Rylie is "stoked" to see what's next professionally with The Rue.
"Music is my favorite thing in the world. It's the stuff of life for me, and it's my soul's content. I feel so alive and happy and functional when I'm making music, and I would love to pursue it," she says.
Chris is "really proud" of The Rue and supports Rylie's desire to move it forward, even though he's kept a very low profile since leaving Queensryche. His last musical release was a brief reunion with the band for 2003 album Tribe…
…A potential return to the spotlight provokes long-simmering questions about why he left Queensrÿche, since his initial departure was attributed to creative differences: After the group fired singer Geoff Tate in 2012, a subsequent lawsuit revealed that the band's interpersonal relationships had been suffering for decades. Asked if he cares to elaborate on why he left, Chris' response is a polite "No, thanks."
However, his decision to live a more private life didn't affect his desire to make music. Through all these years, he's happily created it at home for his own enjoyment. "I love it every bit as much as I did when I was 18 and I decided that's what I want to do for my life," says Chris. "It's a part of me. It's every bit a part of me as it ever was."
Regardless of whether The Rue becomes a major sensation, or if Rylie ever starts working with other musicians some day, the DeGarmos know they will always share the bond of writing songs together. "I think it's an amazing, sacred thing that we have, regardless of where I go with my music otherwise," says Rylie…
…"Rylie's ready to take over the world," her father says cheerfully. "And I'll fly her wherever she needs to go."