FORMER MEGADETH DRUMMER NICK MENZA TO BE REMEMBERED AT A SPECIAL EVENT IN HOLLYWOOD, CA ON APRIL 22ND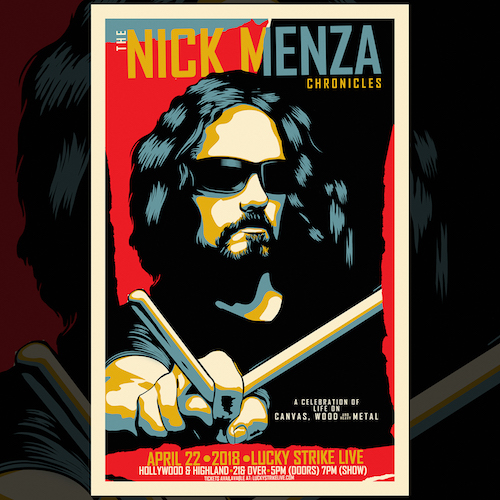 On Sunday, April 22nd, late Megadth drummer Nick Menza will be celebrated by his family, friends and colleagues in a night of musical remembrance of his vast and varied musical history at Lucky Strike Live in Hollywood, California.
Mostly known to the public at large for his work with the Dave Mustaine-fronted band, Nick also contributed his substantial artistic talents over a broad spectrum of visual and musical expressions and all will be on display on this night of art, music and fun. A silent auction of some of his instruments, art and memorabilia will be on display and open for bidding. CDs of his music from former bands will also be on sale, as well as T-shirts and custom Nick Menza drum sticks.
Appearing that night will be a tribute from rock musicians and former bandmates coming together to honor their friend. All proceeds from this event will go to Nick's sons, including future sales of CDs, art and merchandise, as well as a DVD of this performance.
For a full list of currently scheduled performers, please visit this location.
The drummer died on May 21st, after collapsing onstage during a concert in Studio City, California.
Menza's management confirmed the death in a statement writing, "Nick collapsed during the third song into a set with his band OHM. Earliest reports indicate he suffered a massive heart attack and was pronounced dead upon arrival at hospital."
The Los Angeles County Department of Medical Examiner-Coroner later ruled that his death was due to cardiovascular disease.