FORMER JUDAS PRIEST GUITARIST K.K. DOWNING TO RELEASE HIS AUTOBIOGRAPHY ON SEPTEMBER 18TH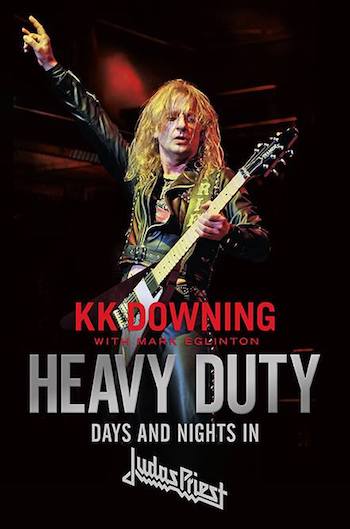 Former Judas Priest guitarist K. K. Downing will release his autobiography, Heavy Duty: Days And Nights In Judas Priest, on on September 18th through Da Capo Press. The book was co-written by the Scottish author and journalist Mark Eglinton, whose previous collaborations include Official Truth, 101 Proof with Rex Brown of Pantera and Confessions Of A Heretic with Behemoth's Adam "Nergal" Darski.
In a recent message posted to his official Facebook page, Downing posted:
"Hi everyone!
I'm proud to finally show you all the cover art for the U.S edition of my forthcoming autobiography.
I've put my heart and soul into this book to give you, the fans, an honest account of my life in and out of Judas Priest. The book is available to pre-order here.
Additionally, the guitarist previously wrote:
"My life story is something that I am very proud of — even though I suspect that some of the details will surprise you just as they did me as I lived through them.
Recollecting my life as I have done in this book has often brought me to close to tears, but has also made me laugh with the fondest memories. It is true that I have made many friends along the way but it is also true that I have made some enemies. But one thing is for sure: the music that has been everything to me has not only been my salvation, but has also brought me closer to the people of so many nations — and I can honestly say that I consider all of you to be my very dear friends.
Heavy Duty is now destined to come your way in September, and it is my proudest moment to be able to share it with you."
Heavy Duty official book synopsis states:
"Judas Priest formed in the industrial city of Birmingham, England, in 1968. With its distinctive twin-guitar sound, studs-and-leather image, and international sales of over 50 million records, Judas Priest became the archetypal heavy metal band in the 1980s. Iconic tracks like Breaking The Law, Living After Midnight and 'You've Got Another Thing Comin' helped the band achieve extraordinary success, but no one from the band has stepped out to tell their or the band's story until now.
As the band approaches its golden anniversary, fans will at last be able to delve backstage into the decades of shocking, hilarious, and haunting stories that surround the heavy metal institution. In Heavy Duty, guitarist K.K. Downing discusses the complex personality conflicts, the business screw-ups, the acrimonious relationship with fellow heavy metal band Iron Maiden, as well as how Judas Priest found itself at the epicenter of a storm of parental outrage that targeted heavy metal in the '80s. He also describes his role in cementing the band's trademark black leather and studs image that would not only become synonymous with the entire genre, but would also give singer Rob Halford a viable outlet by which to express his sexuality. Lastly, he recounts the life-changing moment when he looked at his bandmates on stage during a 2010 concert and thought, 'This is the last show.' Whatever the topic, whoever's involved, K.K. doesn't hold back.
With the band at the beginning through his retirement in 2010 (and even still as a member of the band's board of directors), Downing has seen it all and is now finally at a place in his life where he can also let it all go. Even if you're a lifelong fan, if you think you know the full story of JUDAS PRIEST, well, you've got another thing coming."
In other K. K. Downing news, the guitarist has opened a new concert venue in Wolverhampton, England. Called KK's Steel Mill, the venue will host a number of hard rock and heavy metal acts over the coming months, including U.S. rockers Skid Row, who are booked to play there in August.
Says Downing, "It's with great pleasure and excitement I can confirm another new chapter in my lifelong musical journey, however this time on the other side of the crowd barriers.
As many fans may have already seen, I will be hosting live rock and metal shows at an exciting new venue close to home in Wolverhampton, based in the heart of the Midlands… 'The Home Of Metal.'
Last year, I was asked to visit this venue by a good friend, and together we agreed it would make an amazing place for fans to see top bands and artists close up in unique surroundings.
The city of Wolverhampton itself and the Midlands in general has a great live music scene, with many new bands now making the breakthrough, not to mention the Old Guard of Legends still at the forefront driving the way.
KK's Steel Mill is very happy to have found its home at Starworks Warehouse. The historic building was the birthplace of The Star Motor Car Company around the early 1900s, and the building in its current format has kept that raw industrial feel.
We aim to put on regular headlining shows throughout the year, and I am thrilled to announce for starters I will host American rockers Skid Row on Friday the 24th of August when Snake, Rachel, Scotti, Rob and ZP bring their hard-hitting show to the Steel Mill.
I'm looking forward to seeing many fans at the upcoming shows enjoy the music! I'll probably see you at the bar."