FORMER KISS GUITARIST VINNIE VINCENT DISCUSSES "SPEEDBALLJAM," HAVING LIVE RECORDINGS OF KISS' "CREATURES" AND "LICK IT UP" TOURS, PLUS WORKING ON THEIR "REVENGE" ALBUM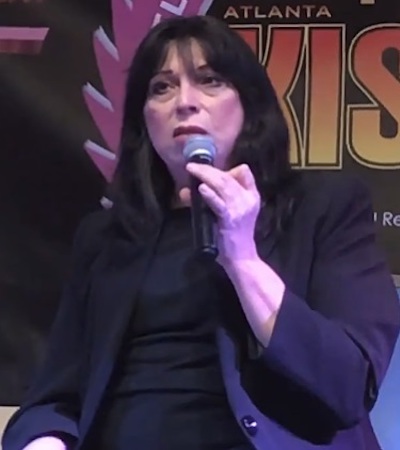 Former KISS guitarist Vinnie Vincent was a guest on the April 19th edition of Rock Talk With Mitch Lafon. Excerpts from the interview can read below, as transcribed by me, for EddieTrunk.com.
On his not doing many interviews anymore:
"I am just inundated with interview requests and I will not do them any longer…they're flatlined unless it's someone I respect who has a real working knowledge of what I do…has an overall quality to their interviews and respect for [the] artists. I will not do these any longer…the world needs to reset itself from this bash=and-trash society that we have turned into and I want no part of it. Right now, I am in a great place…"
Discussing his recently announced Speedballjamm show, scheduled for  June 7th in Nashville, Tennessee:
"Fans can expect fun…I do things that are not expected…So [Speedballjamm] is that recording, the fun of that recording, come to life. The informal, onstage look at each other, everybody just join in, follow where I am going and let's play our asses off and have fun…It will probably be an hour, or so, of guitar, but it's fun…What's following is…I got three albums written, in the can ready to record and this is the first launching…You've got the typical bashers out there [saying] "Vinnie's not going to show up." That is complete bulls–t…I picked out two great players, people that are very harmonious to me, and I'm not easy an easy person to work with…But, these people I picked myself, I have a great rapport with them. They're great players and it's a very comfortable vibe…I always buck trends…and that's Speedballjamm, it's gonna be a lot of fun…Vinnie's back…"
Talking about having live recordings of [KISS'] Creatures In The Night tour:
"Oh, I have every single show we ever played. Yes, I recorded every single Creatures show. I've recorded every single Lick It Up show, U.S and Europe…I recorded them from the stage…on cassette and they virtually sound identical because we were so polished…there was really no variation from show to show, but they sounded great. It sounded like you were at the venue."
On appearing at Gene Simmon's Vault Experience:
"I could bulls–t you, but I won't…It began with an email from Gene. Actually, two emails, because I did not see the first one…It was six months before I got to answer him…So I [wrote], 'How are you? Merry Christmas, hope you're doing well. Yes, no problem, love to see you again. If you need me, I'll be there to help." That was a tough thing for me [to write]. My natural instinct would have been to [write], 'Go f–k yourself. You hurt me too much. I will never extend myself to you again.' But I said [to myself], 'No, I'm going to try and rise above that.' It's a way for me to put some closure [on things] I wasn't sure I could put closure on…I almost didn't do [it] because…the thing that kept coming to my mind was, 'Hey, this is the first time I'm seeing this guy after being run over by his bus.' It's easy to run over someone when you can keep forking over hundreds of thousands of dollars into attorneys…[saying] 'I want to destroy Vinnie…' These were all detrimental reasons that were starting to reverse my decision to show up at his Vault…[But then I said to myself], 'You made a promise, he's expecting you there,' and if you are going to try and put [this] behind you…try and bury this…which is very difficult. I said, 'Okay, I'm going. We'll see what happens.' So, I did show up, and to be honest with you, I went there with a smile…and I felt that it was a cold reception…I was treated very indifferently. Driving home, I thought, 'Why did you do this?…That's the last time I will do the favor, don't ask me again."
Discussing working on KISS' Revenge album:
…It began at Gene's house [and] it was an everyday thing and I have all the recordings of everything we had written, tried to write, didn't finish, intended work, ideas, etc…Then I worked at Paul [Stanley's] house for another number of months…we came up with a lot of songs. There were so many songs written that should have been on that album. It really should have been a Lick It Up album again, because that team was recaptured again…we captured the vibe. I still have those songs, and I heard them not long ago, going through all the material I had, and I thought, 'That song was great. That song was great, This song was great. Why didn't they end up on that record?'
Listen to Vincent's entire interview below.
To get more information on Vinnie's Speedballjamm show, please click here.
Dana's note: Thank you to Bob Davenport for passing this interview along to me.