FEATURE ARTICLE EXTOLS THE VIRTUES OF UFO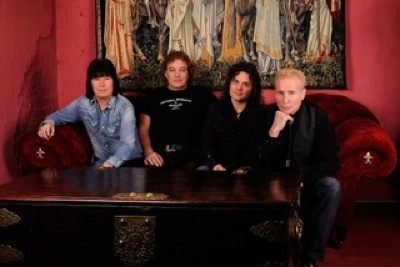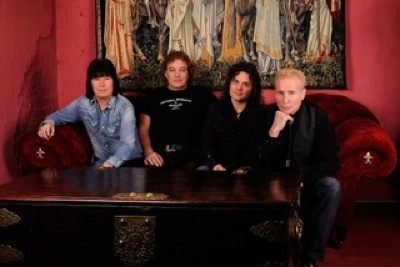 Joel Reese of The Concourse writes:
Let's try something here. Here's a song called Hot and Ready, by the band UFO. Give it a listen.
If this doesn't rock your ass off—if you're thinking, "Ehhh, maybe, I'm not sure"—then go back to nursing your IPA and nodding along to the Mountain Goats or Sam Smith or whoever. I can't help you. But if you have the correct opinion—if you wonder, "Holy shit, that is an amazing solo, and it's just the opening riff? Who is that?"—then you have uncovered one of rock 'n' roll's greatest secrets.
In the annals of rock history, tucked way behind your Zeppelins and Floyds, just trailing your Big Stars and Thin Lizzys, but just ahead of your Raspberries and Budgies, there resides a band that only die-hards and full-on music geeks seem to truly appreciate (or even know): UFO.
At the height of their mid-'70s heyday, this hard-living, ass-kicking, spandex-wearing quintet rocked like few have dared to rock, even if few dared to rock alongside them. They boasted a haughty, combative frontman with great pipes; a hedonistic, polka-dot-pants-wearing bass player who made Keith Richards look like Debby Boone; and simply one of the best hard-rock guitarists of all time. They should have ruled the era when the amps were loud, the Camaros fast, the mullets magnificent and unironic. UFO put out five good-to-brilliant studio records that stand toe-to-toe with any of the great albums of that era; then, in 1979, they released their masterpiece, Strangers in the Night, a powerful, punishing live album with the visceral impact of a Jack Lambert clothesline tackle.
"The album is incredible, absolutely incendiary," says former Rage Against the Machine guitarist Tom Morello, now a solo artist who records as the Nightwatchman. "It captures a great band at the height of their powers…I don't weep for UFO, They made some really great records, and their live album is one of the greatest albums of all time. No one can take those points off the board."
Eddie Trunk, the nationally syndicated DJ and host of VH1's That Metal Show, concurs "Strangers in the Night is pretty much my favorite album of all time. And by all accounts it really is live, making it even more amazing."
But these cock-rockers flew too close to the sun. Right now, 35 years after their epochal live record, UFO are getting set to put out a new album (A Conspiracy of Stars, their 22nd studio release) that most likely won't be downloaded (or even pirated) by the millions (or even the hundred-thousands) when it's released in March. And yet they soldier on, dutifully playing smaller clubs and mid-day festival slots and the occasional ribfest, with their awesome past unjustly consigned to the dustbin. UFO are your favorite hard-rock band's favorite hard-rock band, but they command recognition from almost no one else. Which is wrong. Because UFO in their prime were awesome, and the story of how they got there is even … awesomer.
Read entire story at The Concourse.
source: theconcourse.deadspin.com