EUROPE FRONTMAN JOEY TEMPEST DISCUSSES THE BAND'S NEW ALBUM, "WAR OF KINGS," AND THE INSPIRATION BEHIND SOME OF THEIR OTHER SONGS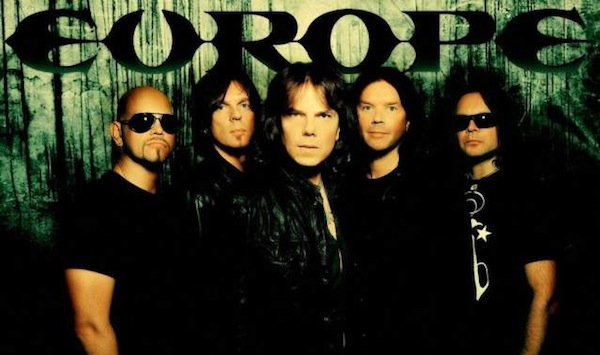 Greg Prato of Songfacts spoke with Europe frontman Joey Tempest. Excerpts from the interview appear below.
Songfacts: After hearing the leadoff single/title track [War of Kings], I was surprised by how heavy it was. Was it a conscious decision to go in a heavier direction?
Joey Tempest: I think it's been an organic journey we've been on since we started up again 11 years ago. Just going on our own adventure musically. Every album's got its own life. I suppose this record is – in ways – heavier than the others, but it's also more tender in other aspects, like on Praise You and Angels (With Broken Hearts). It just happened that way, to be honest. The bass player supplied us with a few more riffs on this record to write music to. He has some heavy notes in there. It just happened this way.
Bag of Bones, the last record that we recorded with Kevin Shirley, that's when we started recording live again-around the drum kit. It took about two or three weeks: just pick the best takes and move on. With War of Kings, we did the same but we also added a bit of vintage gear and Mellotron and Hammond. We wanted to create an atmosphere for the record.
But yeah, it is quite heavy in places, but it doesn't surprise us – it's more of a natural thing for us.
Songfacts: What inspired you to write [the song] Cherokee?
Joey: It was a book, actually, that [producer] Kevin Elson's then-wife had. I think I saw it laying around, and I thought, "That would be interesting." I started reading the story about the Cherokee Indians, and I thought it would be an interesting thing to write about.
It wasn't so easy to write it, but I thought I had to give it a go. Musically, it was the last song written for The Final Countdown, and I remember having that riff, and we said, "We need to have one more song." I showed that one and the guys said, "Yeah, let's try that." We built the solo part, which is quite nice, and recorded it with Kevin.
Songfacts: What about Rock the Night?
Joey: We started touring in Sweden – this was before The Final Countdown. It was just describing the feeling of having fun and the touring life.
There was a version of Rock the Night recorded before Kevin recorded the song. That was when we were touring around in Scandinavia, we started touring Japan. It was just describing our lives at the time. It was crazy.
Songfacts: What about Superstitious?
Joey: I don't remember that, but I do remember it was the first single after The Final Countdown, from Out of This World. It sort of went back to the day when we used to see early Whitesnake, with Bernie Marsden and Micky Moody. It was a song that had that sort of hard rock with a slight blues feel, but it was also a big chorus. It was just a cool track. It was a good song to start off with after The Final Countdown record. I don't remember the lyric inspiration. I would suspect I was interested in superstitions at the time… I don't know!
Songfacts: Do you feel it was difficult following up the success of The Final Countdown album?
Joey: We just decided not to emulate it. We tried to go on our own journey after that. Out of This World is slightly different: more guitar driven, more classic rock driven. I don't remember having a big problem with it, because we took the decision not to try to write another The Final Countdown. It was just moving on, really. Out of This World was quite a good album and a great tour, I remember.
Songfacts: Who are some of your favorite singers and songwriters?
Joey: These days, I really like the new bands that carry the torch for classic rock, bands like Rival Sons, White Denim. I do appreciate what Jack White is doing, too. But in the past, I was very thrilled when Audioslave came out with Cochise just after the millennium. That's when we re-started, and we used that record as a benchmark. It's amazing.
In the past, I was a huge fan of Deep Purple, Thin Lizzy, Led Zeppelin. But I also have another side: I did three solo albums in the '90s when I was very much influenced by Jackson Browne, Randy Newman, Neil Young, and Bob Dylan. I did a few years just going to those shows and buying all those CDs. It gave a new perspective lyrically when we started Europe up again.
Songfacts: Do you feel that John Norum is one of the more underrated guitarists in rock?
Joey: Absolutely. He's not much into self-promotion, he's very laid-back in that sense. He knows everything from cables to how to set up a guitar – he works on guitars himself. And as a player, he's one of the best of his generation. I'm so lucky to play with that guy. I saw him play when I was 15 and he was 14, and we've been brothers since then. He's an amazing guitar player – I'm so proud to stand on the same stage. He's one of the best of his generation, without a doubt.
Read more at Songfacts.
To see the video of War of Kings, from the album of the same name, please click here.
Europe's War of Kings was released on March 10th. The band will also be playing three shows with special guests Black Star Riders at:
4/24/15 Potawatomi Casino – Milwaukee, WI
4/28/15 House of Blues – Chicago, IL
4/30/15 Irving Plaza – New York, NY
source: songfacts.com