ELEGANT WEAPONS UNLEASH SINGLE/VIDEO FOR TITLE TRACK FROM THEIR DEBUT ALBUM, "HORNS FOR A HALO," ON SALE TODAY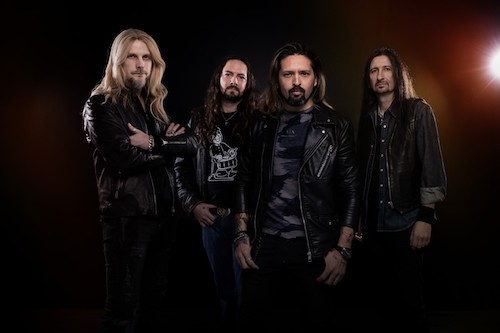 On the same day that the all-star metal collaboration Elegant Weapons drops their debut album, Horns for a Halo – May 26th – fans will also be able to view their latest music video, for its title track. Comprised of Rainbow singer Ronnie Romero, Judas Priest guitarist Richie Faulkner, Uriah Heep bassist Dave Rimmer, and Accept drummer Christopher Williams, the title track is the third single/video, and can be seen below.
"Unmistakably dark and brooding, light and dark, good and evil. A mid-paced blend of Birmingham and Seattle with a slice of thrash thrown in," explains Richie Faulkner. "The title track Horns For A Halo is like Tony Iommi crossed with Alice In Chains. It's about the way we justify the bad things we do. When we turn up on Judgement Day, will the angels kind of confuse our horns for halos, if you know what I mean."
The band's earlier singles/videos, Blind Leading the Blind and Do or Die, can also be viewed by clicking on their highlighted song titles.
Elegant Weapons' debut full-length, Horns for a Halo (produced by Faulkner's Priest bandmate, Andy Sneap and featuring album performances by Pantera's Rex Brown and Judas Priest's Scott Travis), and can be pre-ordered here.
Lastly, Elegant Weapons will also soon be hitting the road in Europe beginning in June and running through July, which will include performances with Pantera, festival appearances, and also headlining their own shows. Tickets to the shows can be purchased via this link.
"We are very much looking forward to touring and our first tour dates are taking place in Europe starting in June 2023. Fans can expect heavy songs with catchy melodies, great vocals and lots of riffs. We all live to play live, and can't wait to take the Elegant Weapons out onto the live stage."
Tour Dates:
June:
12 Czech Republic, Prague O2 Arena (With Pantera)
13 Germany, Berlin Verti (With Pantera)
16 France, Clisson Hellfest
18 Belgium, Dessel Graspop Metal Meeting
20 The Netherlands, Amsterdam Afas (With Pantera)
21 Germany, Hamburg Edel Optics (With Pantera)
23 Switzerland, Zurich Komplex
25 Spain, Murcia Rock Imperium Festival
26 Spain, Madrid Mon Club
28 Portugal, Lisbon Evil Live Festival
29 Spain, Viveiro Resurrection Festival
July:
2 Italy, Bologna Return Of The Gods Festival
30 UK, Ebbw Vale Steelhouse Festival
Follow Elegant Weapons online: Official Website, Instagram, Facebook, Twitter and Youtube.