ELEGANT WEAPONS, FEATURING JUDAS PRIEST MEMBERS RICHIE FAULKNER AND SCOTT TRAVIS, ALONG WITH PANTERA BASSIST REX BROWN WITH SINGER RONNIE ROMERO, RELEASE THEIR FIRST SINGLE VIDEO, "BLIND LEADING THE BLIND," DEBUT ALBUM "HORNS FOR A HALO" DUE MAY 26TH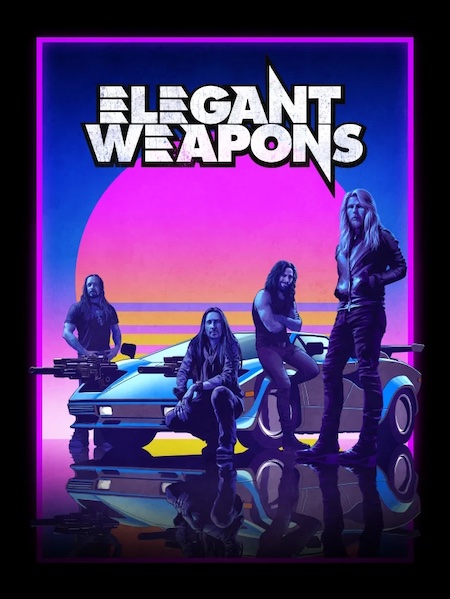 The animated music video for Blind Leading The Blind, the first single from Elegant Weapons, the new project featuring guitarist Richie Faulkner(Judas Priest) and singer Ronnie Romero (Rainbow, MSG), can be seen below. The song is from Elegant Weapons' debut album, Horns For A Halo, which will be released on May 26th through Nuclear Blast. The LP was recorded with bassist Rex Brown (Pantera, Down) and drummer Scott Travis (Judas Priest) and was helmed by acclaimed British producer Andy Sneap, who has previously worked with Judas Priest, Accept, Exodus and Megadeth, among many others.
"The video is great and gives a quirky and stylistic representation of the meaning of the song," explains Faulkner. "The main character is getting drunk on the power he is given by the people that trust him, only to be found out later when his followers really see the truth. When the power is taken away, he is seen for what he really is."
Horns For A Halo track listing:
1.  Dead Man Walking
2.  Do Or Die
3.  Blind Leading The Blind
4.  Ghost Of You
5.  Bitter Pill
6.  Lights Out
7.  Horns For A Halo
8.  Dirty Pig
9.  White Horse
10. Downfall Rising
To read more about Elegant Weapons, please click here.