EDDIE'S NEW AXS SHOW "TRUNKFEST" PREMIERES ON JULY 1ST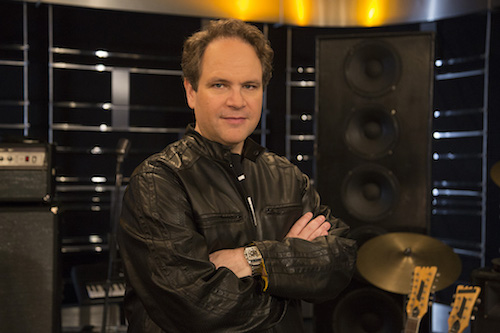 AXS TV unveils a one-two punch of original primetime summer rock programming, beginning July 1st with new episodes of The Top Ten Revealed, hosted by Katie Daryl, at 9pE/6pP, followed by the series premiere of Trunkfest, hosted by Eddie Trunk, at 9:30pE/6:30pP. Each series will consist of eight all-new episodes.
Beloved AXS TV star Katie Daryl launches into the summer cycle of the popular countdown series The Top Ten Revealed with a smoldering premiere dedicated to rock's most iconic Songs About Sex. The night features expert analysis by an impressive roster of music legends and critics, on hand to reveal their picks for sizzling singles by Warrant, Aerosmith, and more. Other highlights include Epic Songs Of '73 on July 8, headlined by hits from Elton John, The Who, and The Eagles; and One Hit Wonders on July 15, saluting Carl Douglas, and The Knack, among others. Notable guests include Dee Snider, Lita Ford, Eddie Money, Matt Pinfield, and many more.
Then, hit the road with Eddie Trunk in the series premiere of Trunkfest, as the noted music historian rolls into the one and only Sturgis Motorcycle Rally. During the episode, Trunk hitches a ride in a fan's sidecar; sits down for an exclusive interview with Southern Rock superstar George Thorogood; and gets schooled in the ways of motorcycle stunts with daredevil Doug Danger, who takes Eddie behind the scenes of his breathtaking Rattlesnake Jump.
Other highlights from the freshman series include a creepy cruise down to New Orleans on July 8th for the Voodoo Music + Arts Experience festival, where Trunk celebrates Halloween with a harrowing trip through a haunted house, eats a fried Oreo for the first time, catches up with Taylor Hawkins of the Foo Fighters and learns how to make jambalaya, before joining Tom Morello, Chuck D, Brad Wilk and Tim Commerford to discuss their supergroup Prophets of Rage; then, Trunk heads south of the border for a concert vacation at Castaway with Southern Ground, talking with Southern Rock favorites Blackberry Smoke, and chart-topping Country mainstays the Zac Brown Band, before watching ZBB's personal cuisine wiz Chef Rusty craft a sumptuous ceviche while standing in water.
"With their encyclopedic knowledge and passion for all things rock, Katie Daryl and Eddie Trunk each provide unique insights that viewers won't get anywhere else," said Evan Haiman, vice president of music programming and production. "The Top Ten Revealed offers priceless commentary from some of the biggest names in rock, as they serve up their hilarious, astute, and often over-the-top takes on the most memorable songs in rock history; and Trunkfest brings the ultimate summer concert experience home, taking viewers on a guided tour of the nation's top festivals with in-depth explorations of the sights, sounds, tastes, and bands that make these events so incredible."