EDDIE DISCUSSES HIS NEW TV SERIES "TRUNKFEST," AND SAYS, THE SHOW TAKES HIM "OUT OF HIS COMFORT ZONE"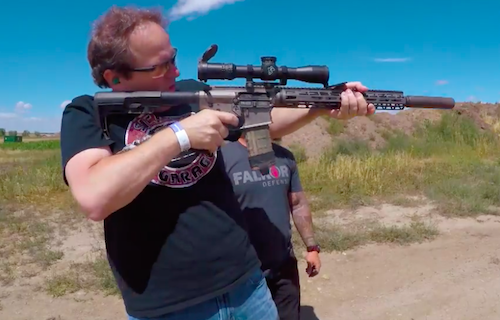 James Wood of GO.JIMMY.GO spoke with our very own Eddie Trunk about his new series, Trunkfest, premiering July 1st on AXS TV. Highlights from the interview appear below.
How did this new series, Trunk Fest come about?
Eddie Trunk: I had done some things with AXS over the last few years. Most recently, I hosted a documentary film series called Reel To Real. They came up with the idea of covering music festivals and wanted to know if I'd be interested in hosting. The executive producer, Evan Haiman, is an old friend and the two of us got together over lunch and talked. It was a no brainer and now here we are. What's cool for me is that the show takes me a little bit out of my wheelhouse. It's still music related and talking to artists, but it's also about traveling and the festival experience. It's taken me to some really cool places and taught me some things along the way as well.
What was your favorite part about doing the series?
ET: I've interviewed artists my entire career in radio and TV and love it, but my favorite part about this series is that it's not just doing interviews. It's taking me out of my comfort zone; putting me in different situations and discovering things I normally wouldn't discover. Like being on a motorcycle; firing guns; being to cities I haven't been to in a long time and experiencing foods I'd never tried before. For me, it's about the exploration. We have more festivals in America now than we've ever had and it's cool to get out and explore what's happening. The experience is the buzz word for this show.
You mentioned learning some things while filming this series. What were some of the revelations?
ET: One of the things I was surprised about was an episode we shot in New Orleans for Jazz Fest. It has of all the music genres (pop, hip-hop, rock, classic rock) but the least amount of jazz [laughs]. That was eye-opening. There was another huge festival in San Diego I'd never heard of called KAABOO, which was also really interesting…The whole experience has been phenomenal.
You've always had a strong opinion when it comes to The Rock & Roll Hall of Fame. Has that opinion changed with the recent induction of bands like Deep Purple, KISS and Bon Jovi?
ET: It actually has. I've been a vocal opponent of the Hall of Fame but have to give credit where credit is due. There's still a lot of work to be done, but seeing Alice Cooper, Rush, Bon Jovi and Deep Purple be in there is a positive movement. About four years ago, they [The Rock Hall] made me a voter, and that's another good sign. Even though I beat the hell of them, instead of holding it against me, they brought me in and let me have a voice.
Are there any other projects you're currently working on?
ET: Right now, my focus is on getting word out about Trunk Fest. Ever since That Metal Show ended, I've been busy doing radio. I do six live shows a week on Sirius/XM; one daily on a channel called Volume that airs every day from 2-4 p.m. ET and replays at 9-11 p.m. ET. Outside of that, I'm doing a lot of hosting and appearing at festivals. I also just recently got confirmed to go on tour with Deep Purple in November and host their shows in Mexico. After all these years to know artists and have these opportunities is amazing. I'm really lucky.
Read more at GO.JIMMY.GO.
source: gojimmygo.net