EBAY AUCTION WINNER TO JOIN EDDIE TRUNK'S CELEBRITY BOWLING TEAM AT ANNUAL "BOWL FOR RONNIE" TO BENEFIT RONNIE JAMES DIO STAND UP AND SHOUT CANCER FUND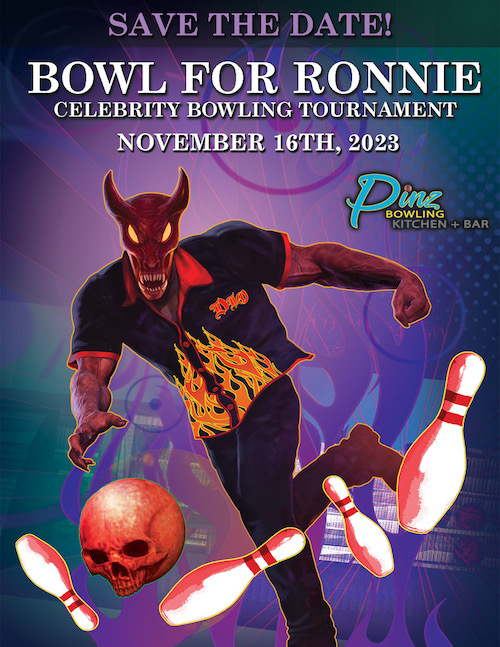 Following 10 days of feverish eBay bidding, Doug Burgess of Tulsa, Oklahoma has emerged the highest bidder for a spot on the celebrity bowling team captained by broadcast personality Eddie Trunk at the Bowl For Ronnie Celebrity Bowling Party on November 16th at PINZ Bowling Center in Studio City, California. Trunk, who is heard on SiriusXM's 103 Faction Talk channel, will once again host the event benefiting the Ronnie James Dio Stand Up and Shout Cancer Fund. 
Burgess will be joining Trunk as well as guitarist Tom Morello of Rage Against the Machine, guitarist Brent Woods (Sebastian Bach, Chevy Metal) and Anthrax bass player Frank Bello on the celebrity bowling team. 
Also planning to join the fun and festivities are: Fred Aching (BulletBoys, PowerFlo, Kings of Thrash); T-Bone Andersson, Jimmy Burkard, Jason Cornwell, Dave "Chili" Moreno and Roy Z of West Bound; Dennis Atlas (QRST); Ira Black (Vio-Lence, BulletBoys, Dio Band); Ann Boleyn (Hellion); Phil Buckman (Fuel); John Bush (Armored Saint, Anthrax, Metal Allegiance); Calico Cooper and Chris Latham (Beasto Blanco/Alice Cooper); Gilby Clarke (Guns 'N Roses); Fred Coury (Cinderella); Robbie Crane (Black Star Riders); Phil Demmel (Vio-Lence, Machine Head); Jerry Dixon (Warrant); Matt Duncan (DC4); Shawn Duncan (DC4, LA Guns); Bjorn Englen, Scott Warren and Simon Wright (Dio Band); Lita Ford; Juan Garcia (Body Count, Agent Steel, EvilDead); Abby Gennet (Slunt); Tracii Guns and Johnny Martin of LA Guns; London Hudson (S8nt Elektric); Jesse Hughes and Jennie Vee of Eagles of Death Metal; DJ Will (KNAC); Terry Ilous (XYZ, Great White); James Lomenzo (Megadeth); Robert Mason (Warrant); Roy Mayorga (Ministry, Stone Sour); CC McKenna (Death Dealer Union); Sean McNabb (Lynch Mob); Rob "Blasko" Nicholson (Ozzy Osbourne); Marty O'Brien (Daughtry, Lita Ford); Slim Jim Phantom (Stray Cats); Gonzo Sandoval (Armored Saint); Robert Sarzo (Hurricane); Brett Scallions (Fuel); drummer Zak St. John; Patrick Stone (Budderside); Marq Torien (BulletBoys); Neil Turbin (Anthrax, DeathRiders); Dirk Verbeuren (Soilwork, Megadeth); Chris Velez (Persekutor); Chas West (West Bound/ Bonham); Chuck Wright (Alice Cooper, Quiet Riot, Montrose); August Zadra (Dennis DeYoung); and actors Al Coronel and Star Fields.  
The evening of fun, food, and, of course, bowling with rockers and celebrities competing for trophies kicks off at 6:30 PM with open bowling and a VIP pre-party for lane sponsors, celebrities and their guests. 
We are excited to announce that this event has sold out in advance for the second year in a row.
WHO: The Ronnie James Dio Stand Up and Shout Cancer Fund
WHAT:   Bowl For Ronnie Celebrity Charity Bowling Tournament
WHERE: Pinz Bowling Center, 12655 Ventura Blvd, Studio City, California
WHEN:   November 16th – 6:30-11:00pm/VIP Pre-Party 6:30-8:30pm
WHY: To raise funds for cancer research.
100% of the net proceeds from the Bowl For Ronnie event will go to the Dio Cancer Fund