DRUMMER VINNY APPICE DISCUSSES WORKING WITH DIO, IOMMI AND JOHN LENNON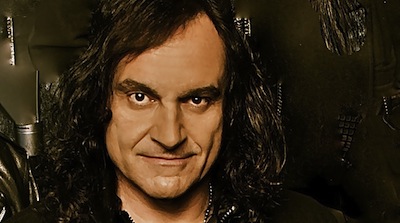 Greg Prato of Vintagerock.com spoke with drummer Vinny Appice. Portions of the interview, appear below.
Vintagerock.com: Why did Ronnie and Vivian seem to not get along?
Appice: Well, it was more of a business thing. We were promised a lot of things from Ronnie and Wendy [Dio, Ronnie's wife and manager] — to share in more of the profits of the band. And it really didn't materialize. And Viv was upset about that…we were all upset about that, but I had to deal with it on my own terms. Viv didn't like what was going on with that, and that caused a little bit of a friction. So, it was nothing ever musical, it was just a business thing — you're promised something, and it doesn't happen. So, you've got to call people on their word. That's what happened — it was more of a business thing.
Vintagerock.com: Did Vivian ever mention to you if he regrets not being able to patch up his differences with Ronnie before Ronnie's passing?
Appice: No, we never really talk about it. So, I don't know how he feels about that. It's kind of sad it happened, but of course, that affected the music — we wound up having to get a different guitar player [after 1985's Sacred Heart]. Ronnie was adamant about, "Alright, we are going to replace Viv with Craig Goldy," and that changed the band and the music somewhat, and it changed the success we were having, too. So, it did lead to that, which wasn't good. I mean, when you've got a successful thing and a great band – leave it be. That's the way it should be taken care of — not short-term, like, "Ah, get rid of this guy." And then, success dwindles, y'know?
Vintagerock.com: Did you keep in touch with Vivian after he left Dio?
Appice: Yes. Not a lot in the beginning, but later on we kept in touch here and there. He did a little blues thing on his own, and I went to see him play. But not a lot, because when he joined Def Leppard, he was busy and out of town a lot. So, I didn't really keep in touch with him at that point.
Vintagerock.com: Do you sense competition between Last in Line and Dio Disciples?
Appice: Well, they're two different things. Last in Line started out with me, Jimmy, and Viv, and we were the band that wrote those songs and played those songs – on those albums. We're not a tribute to Ronnie, we just started playing the songs that we wrote. Unfortunately, Ronnie is not here — if he was here, maybe it would have been a full-on reunion. But Dio Disciples are playing a Ronnie show, basically – they're playing, Man on the Silver Mountain, and old things from Ronnie's career. And they weren't in the original band, where all the important albums or songs were written. Some of the guys never even played with Ronnie. But they're good — it's a great show. But I call that more of a "Ronnie James Dio show" than Dio or something. They're more of a tribute to Ronnie, we're the real deal — we're the guys that played it. And now that we have II out, we're starting to get established on our own – as a real band, because we're writing original material. The first album [2016's Heavy Crown] did OK, and the tours have been good. Things are looking up, and are getting more successful. We're building this pretty much on our own – as our own band now.
Vintagerock.com: Are you still in touch with Tony Iommi and Geezer Butler?
Appice: Just via email, pretty much. I'll get an email from Tony and I'll reply — same thing with Geezer. But more with Tony. I like to always keep in touch with him and see how he's doing. We had a lot of close times and great times together. Great music. So yeah, we're still in touch.
Vintagerock.com: Would you ever like to work with them again?
Appice: Oh yeah, absolutely, Who wouldn't want to work with Tony and Geezer? Besides who they are, they're really family, and just the way they play is amazing.
Vintagerock.com: You crossed paths with John Lennon back in the day, right?
Appice: Yeah. I hooked up with John Lennon, and we had a band in Brooklyn, and we had four horn players. A great band. I was like, 16. I was friends with Jimmy Iovine, who brought us into the studio — Record Plant Studios, in New York — to produce us. We did that, and then the Record Plant signed us to a management deal, and they gave us a room to rehearse at the Record Plant Studios. So, we were there all the time – rehearsing and recording. And then Jimmy called us one night to do hand claps on a song he was recording. So, we went downstairs…and there's John Lennon in the control room. So, we did hand claps on the song Whatever Gets You Thru the Night — that's me and my band. We were freaking out. I mean, I was in high school — I was going to high school the next day. And then John asked Jimmy, "Who were those guys? They came down in five minutes." He told them, and then a couple of days later, John came up to our rehearsal room to watch us play. He really liked us, and we started hanging out with him. He kept coming up, and we'd play pool, he'd watch us rehearse, smoke some pot. It was really cool. Then, he asked us to do a few of videos, so we did three videos with him in the studio there. And then, we did a live gig — he asked us to do this live gig at the New York Hilton, which was going to be on TV, all around the world. So, we did that. I found out not long ago that that was his last live performance — ever. Who would have thought, right? All that was while I was going to school, so, I didn't really want to stay in school. It was a different world — like day and night. I was 16.
Vintagerock.com: What was the name of that band?
Appice: MF. If you look it up on YouTube, you can see it (listed as "John Lennon and BOMF"). If you look it up online, there's a picture of us all together — a bunch of pictures. John wanted us to wear two faces at the show, so we went — with John — to get our faces molded and made a mask of. And then, we all got fitted for jumpsuits – ours were black, his was red. And we used to do this with him — we went in a van and got fitted. It was really an amazing time. And we went onstage – we come out, and nine guys have two faces on, with no hair, black jumpsuits on, and John comes out in red. The reason for it was the show was a tribute to Sir Lew Grade, who was an entertainment guy in England — and John didn't like him. He thought he was two-faced. So, we came out in this thing, and people were shocked — it was a black tie affair. It was crazy, crazy stuff.
Read more at Vintagerock.com.
source: vintagerock.com