SKID ROW DEBUT ALBUM DELUXE EDITION AVAILABLE TODAY IN CELEBRATION OF 30TH ANNIVERSARY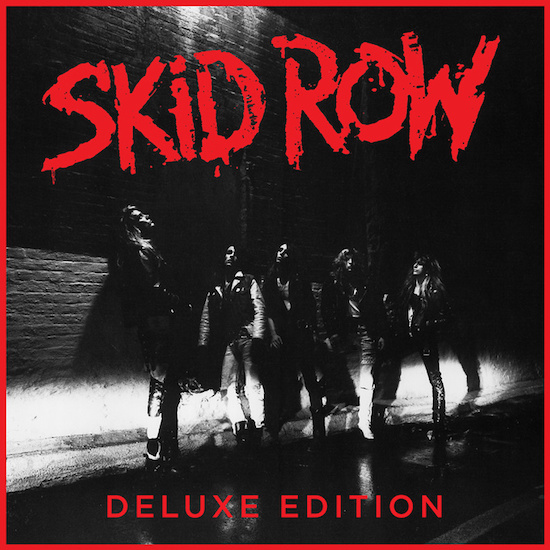 Skid Row were unleashed on the world when their self-titled debut album was released in January 1989. That year, the album steadily climbed the Billboard chart to peak at #6 on the strength of the band's hits Youth Gone Wild, I Remember You, and  Billboard Top 5 single 18 And Life."

Rhino celebrates the 30th anniversary of the group's multi-platinum debut with a digital deluxe edition that includes the original album remastered for the first time, expanded with the bonus track Forever. The deluxe edition also features a previously unreleased live performance from 1989, marking the first ever release of a full live show from the band. Skid Row: 30th Anniversary Deluxe Edition is available now on all digital download and streaming services.

Skid Row was formed in 1986 in Toms River, New Jersey. Two years later, guitarists Dave Sabo and Scotti Hill, bassist Rachel Bolan, drummer Rob Affuso, and singer Sebastian Bach signed with Atlantic Records. To record their debut, the quintet traveled to Royal Recorders in Lake Geneva, Wisconsin to work with producer Michael Wagener (Dokken, Great White, White Lion).

Shortly after the album was released on January 24, 1989, Skid Row was certified platinum, and the band began touring the world, first with Bon Jovi on its New Jersey Syndicate Tour, and later with Aerosmith during the band's tour for the album Pump. The extensive touring, coupled with heavy rotation of Skid Row's music videos on MTV, helped fuel the debut album's enormous popularity. 

Skid Row would remain in the Billboard album chart's Top 10 for three months, and the record would eventually be certified platinum five times. The first single from the album – Youth Gone Wild– was followed by the Top 10 hits 18 and Life and I Remember You. Skid Row: 30th Anniversary Deluxe Edition includes the song Forever as a bonus track. Originally recorded in 1988 during the sessions for Skid Row, the song remained unreleased until 1998 when it appeared on, 40 Seasons: The Best of Skid Row.
 
Skid Row: 30th Anniversary Deluxe Edition also features an unreleased recording of the band's April 28th, 1989 performance at the Marquee club in California. The show includes powerful live versions of the classic hits from the album as well as fan-favorites such as Rattlesnake Shake, Piece Of Me, and Big Guns, as well as the set-closing cover of the Kiss classic Cold Gin.
Skid Row: 30th Anniversary Deluxe Edition track listing:

1. Big Guns
2. Sweet Little Sister
3. Can't Stand The Heartache
4. Piece Of Me
5. 18 And Life
6. Rattlesnake Shake
7. Youth Gone Wild
8. Here I Am
9. Makin' A Mess
10. I Remember You
11. Midnight/Tornado

Bonus Track:
12. "Forever" 

Live at the Marquee, Westminster, CA (4/28/89):

1. Makin' A Mess
2. Piece Of Me
3. Big Guns
4. 18 And Life
5. Sweet Little Sister
6. Rattlesnake Shake
7. I Remember You
8. Here I Am
9. Youth Gone Wild
10. Cold Gin