DRUMMER CARMINE APPICE SAYS HE THINKS GUITARIST JOHN SYKES "DONE" PLAYING MUSIC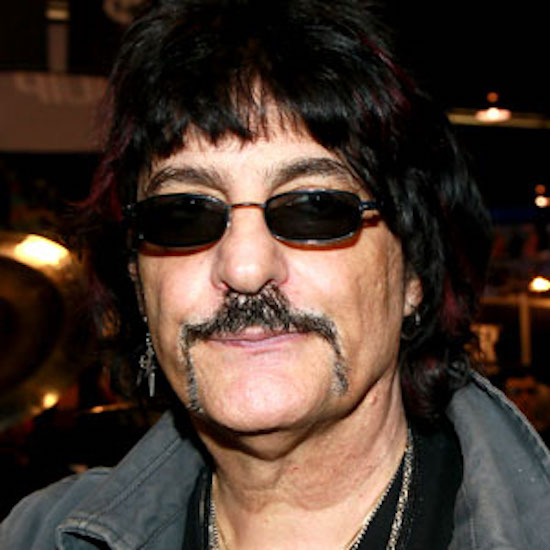 On January 9th, drummer Carmine Appice (Vanilla Fudge, Rod Stewart, Blue Murder) was guest on Eddie's Sirius/XM show, Trunk Nation With Eddie Trunk. Appice discussed his former Blue Murder bandmate, John Sykes. Portions of what he told Eddie appear below (via blabbermouth.net).
When asked Eddie if he thinks Sykes is "done" playing music, Carmine replied, "I think he's done. I send him texts; I don't hear nothing back. I don't know. Maybe, he's pissed off at me for some reason? But I talk with [bassist] Tony [Franklin]; he hasn't heard from him either."
"Tony said [John] just don't like the business now, the way the business is," he continued. "He'd rather do nothing. That's what Tony told me. But we can go play, the band. When we rehearsed a few years ago, it was like magic. And then it just didn't happen. It was just tremendous, the three of us playing together again. It was really tight. We'd say, 'Hey, let's play Valley Of The Kings,' and we did it. Now, unfortunately, our keyboard player, Nik [Green], passed away [in 2016]. But we can get somebody else to play keyboards. I would love to do some shows with Sykes and Tony as a trio with a keyboard player. We used to call it 'the trio with depth.'"
When asked how long ago he, Sykes and Franklin last rehearsed together, Carmine said, "It was four years ago, maybe — five years ago. Yeah, [we were rehearsing because we were planning] to do shows. And it just didn't happen.
When [Sykes] got out of Thin Lizzy, that was supposed to be because we were gonna do shows. And we had shows in Europe booked. But, something happened with him and the management; something happened. I forgot what it was. So, all the shows got blown out. We had some of the big festivals over there. That would have been the start of it. He left Thin Lizzy from what I understood, so we could do Blue Murder. 'Cause Thin Lizzy was, like, he was in it for a while, he was doing stuff, but he didn't play on the big records. But Blue Murder was his; we created it. And it was something that I felt was never completed. It was a great band. Unfortunately, when it came out, for some reason it didn't do what it was supposed to do. And then grunge came in and kind of killed the whole idea. Too bad."
The last new music that Sykes put out, was a single called Out Alive, which can be heard here.