DRUMMER CARMINE APPICE AND BASSIST TONY FRANKLIN EXPLAIN WHY BLUE MURDER HAS YET TO REUNITE, "WE CAN'T GET [GUITARIST/VOCALIST] JOHN [SYKES] OUT OF THE HOUSE"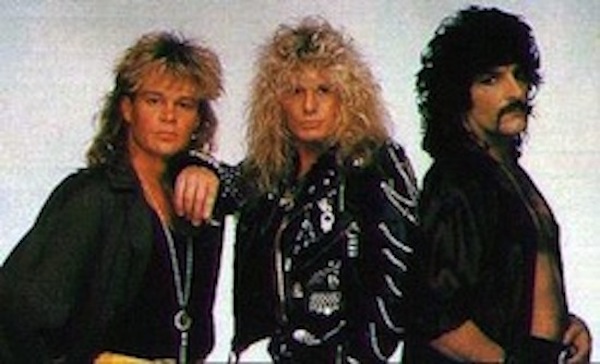 At the recent NAMM convention, drummer Carmine Appice and bassist Tony Franklin were interviewed by the The Blairing Out With Eric Blair Show, and they discussed Blue Murder, the band which included both Appice and Frankin, along with guitarist/vocalist John Sykes (Tygers of Pan Tang, Thin Lizzy, Whitesnake).
 Appice said (via blabbermouth.net): "People wanna see [Blue Murder play again], but we can't get John out of the house."
He continued, "I saw John last year at the Heavy Metal Hall Of Fame, and he told me he was going out with Tony and this little kid drummer [Fred Boswell Jr.]. And he said, 'The kid wants to meet you,' and I met him. He said [his solo] album's coming out, and they're gonna tour. And I said, 'Good. When that's all done, then let's do Blue Murder.' He said, 'Okay.' Now, nothing's happened. It's been a year."
Franklin went on to say that he speaks to John "regularly" and he explained that there have been "some issues" with Sykes's record label, resulting in a delay in the LP's release. He said, "There are so many dynamics to the story, but it doesn't have to be so complicated. He could just get out there and play music."
"I think one of the things with John is that he has a problem embracing the new business for what it is," Tony continued. "And it is different, and you do have to embrace it."
Carmine concurred, saying: "[John] was always more into the creative part, and the business part he always left to other people. And I know when we were together, he would always ask me, 'What about this? What about that?' So I'm sure he's having a problem embracing the business now. We all are, really, a bit. I mean, I can't believe the way the business is. I've seen it change from 52 years ago. So I'm sure that's part of it with John."
Last November, Sykes announced that he had parted ways with Golden Robot Records, less than a year after signing with the Australian company. At the time, John accused the label of making "little attempt to move things forward despite our best efforts and patience." 
Listen Appice's and Franklin's interview below.