"DIO: DREAMERS NEVER DIE" TO PREMIERE ON SHOWTIME ON DECEMBER 1ST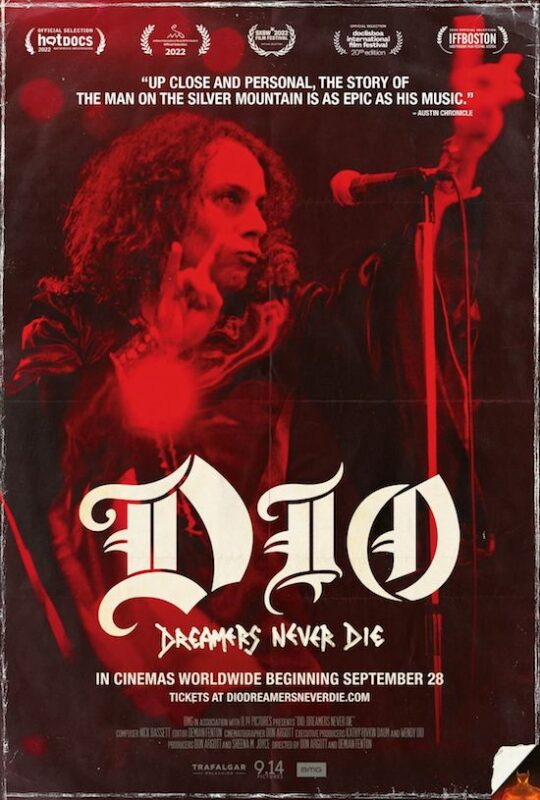 Dio: Dreamers Never Die, the first-ever career-spanning documentary on the life and times of legendary metal icon Ronnie James Dio, will have its television premiere on Showtime on December 1st. It will also be available to stream via the Showtime app.
Executive-produced by Dio's widow and longtime manager Wendy Dio and fully authorized by the artist's estate, Dio: Dreamers Never Die delves deep into the singer's incredible rise from a '50s doo-wop crooner to his early rock days in ELF and Ritchie Blackmore's Rainbow, to replacing Ozzy Osbourne in Black Sabbath, and finally cementing his rock star status with his own band, Dio. The film incorporates never-before-seen footage and personal photos, as well as offering intimate scenes with his closest peers, family, and friends, among them Wendy, Tony Iommi, Geezer Butler, Glenn Hughes, Vinny Appice, Lita Ford, Rob Halford, Sebastian Bach, Eddie Trunk and Jack Black, as they bring viewers inside the life of one of rock and roll's true heroes and one of the most beloved figures in rock.
In other Dio news, Bowl For Ronnie Celebrity Bowling Party, benefiting the Ronnie James Dio Stand Up and Shout Cancer Fund, is set to return on November 17th after a three-year hiatus due to the coronavirus pandemic. The event, to be held at PINZ Bowling Center in Studio City, California, will once again be hosted by our own Eddie Trunk.
Celebrities also planning to participate this year include Graham Bonnett and his band members Beth-Ami Heavenstone, Conrado Pesinato and Kyle Hughes; Ministry members Al Jourgensen, Liz Walton, Roy Mayorga, Cesar Soto, Monte Pittman, John Bechdel and Paul D'Amour; Mark Chaussee (Danzig); Steven Adler (Guns N' Roses, Adler's Appetite); Doug Aldrich (The Dead Daisies); Chris Holmes (W.A.S.P.); T-Bone Anderssen (Gov't Mule); Blasko (Ozzy Osbourne); Chuck Billy (Testament); Ann Boleyn (Hellion); Phil Buckman and Brett Scallions of Fuel; Calico Cooper and Chris Latham (Beasto Blanco/Alice Cooper); Matt Duncan (Armored Saint); Shawn Duncan (DC4); Lita Ford; Tracii Guns and Johnny Martin of L.A. Guns; Abby Gennet (Slunt); Ritchie Kotzen (Winery Dogs); Patrick Kennison (Lita Ford); Oni Logan and Sean McNabb of Lynch Mob; Marty O'Brien (Daughtry); Slim Jim Phantom (Stray Cats); Ricky Warwick (Black Star Riders); DJ Will (KNAC); Howie Simon (Winger); Michael Spencer (Flotsam & Jetsam); Patrick Stone (Budderside); Dave "Chili" Moreno, Jason Cornwell, Chas West, Jimmy Burkhard and Roy Z of West Bound; Nikki Stringfield (The Iron Maidens); Ahmet Zappa; Diva Zappa; Tim "Ripper" Owens, Casey Trask, David Garcia, Harry Conklin, Sean Elg, and Sean Peck of The Three Tremors featuring Tim "Ripper" Owens; Jennie Vee; Craig Goldy, Simon Wright, Rowan Robertson and Bjorn Englen of the Dio Band; guitarist Bobby Keller; drummer Zak St. John and actors Star Fields ("Sons of Anarchy") and Vera Vanguard.
See highlights from 2019's Bowl For Ronnie, here.
Ronnie James Dio, who died of gastric cancer in 2010, reigns as one of the most influential rock artists of all time and one of the greatest vocalists ever. With an illustrious recording career spanning from the 1950's through to the 2000s, the documentary follows his trajectory from sideman into singer, songwriter and frontman of not one, but three of rock's internationally renowned, multi-platinum-selling arena attractions: Rainbow, Black Sabbath and Dio. Famous for popularizing the 'devil horns' hand gesture that is now synonymous with hard rock and heavy metal music, Dio was known for not wavering in his pursuit of his rock and roll dreams and continues to influence a new generation of music artists. His fans the world over remember him not only for his massive talent, but for his kindness, resulting in millions of dollars raised for cancer research in his memory.