EBAY AUCTIONS NOW UNDERWAY FOR PLACES ON BOTH EDDIE TRUNK'S, AND 95.5 KLOS RADIO'S CELEBRITY BOWLING TEAMS, FOR "BOWLING FOR RONNIE" TAKING PLACE ON NOVEMBER 17TH AT PINZ BOWLING ALLEY IN CALIFORNIA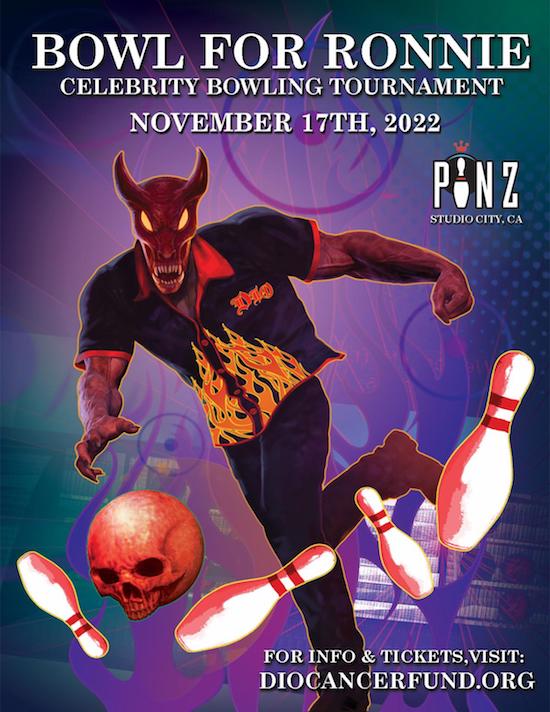 Bidding is now under way on eBay for places on two celebrity bowling teams—one captained by broadcast personality Eddie Trunk and the other by 95.5 KLOS on air personalities Frank Kramer and Marci Wiser—for the Bowl For Ronnie Celebrity Bowling Party on November 17th, at PINZ Bowling Center in Studio City, California. Trunk, who is heard on SiriusXM's 103 Faction Talk channel, will once again host the event benefiting the Ronnie James Dio Stand Up and Shout Cancer Fund, which returns after a three-year hiatus due to the pandemic. 
Rockers Tom Morello (Rage Against the Machine); Brent Woods (Sebastian Bach); Adam Jones (Tool) and Luke Spillar (The Struts) will join Eddie Trunk and the winner of the auction on his celebrity bowling team. At the last bowling party held in 2019, the celebrity competition was the scene of fierce competition, ending with both of the previous year's top teams–headed by Eddie Trunk and Marc Ferrari respectively–defeated by a team led by Phil Buckman of Fuel.  
The eBay auction for a place on Eddie Trunk's 2022 team will end on  November 11th at 10:02AM Pacific time, you can bid to be on Eddie's team here.
Additionally, bidding is also on for a spot on the 95.5 KLOS Radio team, co-captained by Frank Kramer of 95.5 KLOS Radio's Heidi and Frank morning show and on air personality Marci Wiser. Morning show producers Jordan Fitzpatrick and Johnny Ice will also play on their team. The eBay auction for a place on the 2022 KLOS Radio team will end on November 11th at 9:53AM Pacific time, you can bid to be on KLOS's team here.
Celebrities also planning to participate this year include Graham Bonnett and his band members Beth-Ami Heavenstone, Conrado Pesinato and Kyle Hughes; Ministry members Al Jourgensen, Liz Walton, Roy Mayorga, Cesar Soto, Monte Pittman, John Bechdel and Paul D'Amour; Mark Chaussee (Danzig); Steven Adler (Guns N' Roses, Adler's Appetite); Doug Aldrich (The Dead Daisies); Chris Holmes (W.A.S.P.); T-Bone Anderssen (Gov't Mule); Blasko (Ozzy Osbourne); Chuck Billy (Testament); Ann Boleyn (Hellion); Phil Buckman and Brett Scallions of Fuel; Calico Cooper and Chris Latham (Beasto Blanco/Alice Cooper); Matt Duncan (Armored Saint); Shawn Duncan (DC4); Lita Ford; Tracii Guns and Johnny Martin of L.A. Guns; Abby Gennet (Slunt); Ritchie Kotzen (Winery Dogs); Patrick Kennison (Lita Ford); Oni Logan and Sean McNabb of Lynch Mob; Marty O'Brien (Daughtry); Slim Jim Phantom (Stray Cats); Ricky Warwick (Black Star Riders); DJ Will (KNAC); Howie Simon (Winger); Michael Spencer (Flotsam & Jetsam); Patrick Stone (Budderside); Dave "Chili" Moreno, Jason Cornwell, Chas West, Jimmy Burkhard and Roy Z of West Bound; Nikki Stringfield (The Iron Maidens); Ahmet Zappa; Diva Zappa; Tim "Ripper" Owens, Casey Trask, David Garcia, Harry Conklin, Sean Elg, and Sean Peck of The Three Tremors featuring Tim "Ripper" Owens; Jennie Vee; Craig Goldy, Simon Wright, Rowan Robertson and Bjorn Englen of the Dio Band; guitarist Bobby Keller; drummer Zak St. John and actors Star Fields ("Sons of Anarchy") and Vera Vanguard.
Highlights of 2019's Bowl For Ronnie can be viewed below.
The Bowl For Ronnie, an evening of fun, food, a raffle drawing for prizes and memorabilia. and, of course, bowling with rockers and celebrities competing for trophies, begins at 6:30 PM with open bowling and a VIP pre-party for lane sponsors, celebrities and their guests. The Pinz Bowling Center is located at 12655 Ventura Blvd in Studio City, California.
100% of the net proceeds from the Bowl For Ronnie will go to the Dio Cancer Fund, which is now in its 12th year of raising awareness and much-needed funding for cancer research.