ACCORDING TO COMEDIAN JIM BREUER, AC/DC LET SINGER BRIAN JOHNSON GO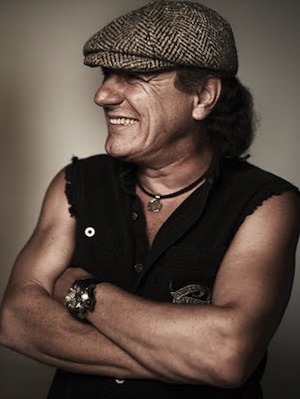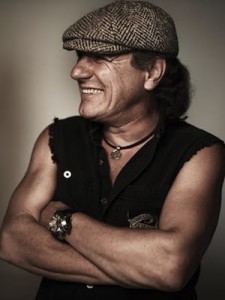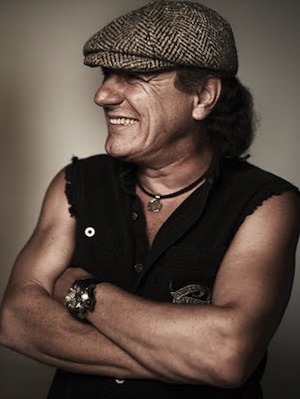 AC/DC singer Brian Johnson was "kicked to the curb" according to Johnson's friend and comedian Jim Breuer, after the 67-year-old frontman informed band co-founder Angus Young of his hearing condition, reports CantonRep.com.
Breuer informed listeners of AC/DC's situation via his podcast, The Metal In Me, after recently spending time with Johnson following his March 11th show at Sarasota Florida's McCurdy's Comedy Theatre.
"(Brian) said that he called and let (AC/DC and Young) know, 'Hey this is what the doctor said, but let's try to figure this out. I don't think it's as bad as he said it is.' Literally the next day in the press, it was 'Brian Johnson, tour canceled, he's losing his hearing.' "
According to Breuer, Johnson was optimistic about making up the dates on the band's current U.S. tour and finishing as many remaining dates on the AC/DC itinerary as possible. Then his tour luggage showed up on his driveway.
"(Brian said) 'I would really like to finish and do some shows. I think we can knock this out.' " Breuer continued. "Then all his luggage that he toured with showed up at his driveway. There's been no calls. No, 'How's your hearing? How's your health?' Boom. Here's your (stuff), nice to know you."
According to the band's website, Johnson was "advised by doctors to stop touring immediately or risk total hearing loss." The press release went on to state the remaining 10 U.S. dates of the band's current Rock or Bust tour would be rescheduled later in the year and "likely with a guest vocalist."
Breuer explained that Johnson's doctor informed the singer that he had lost a percentage of his hearing during the first run of the Rock or Bust tour during "open air" stadium shows, and it raised a "red flag" for the band's eldest statesman.
"(The doctor said) 'Now you're gonna go out and do indoor (shows)? I do not put my name on this. You're a grown man. You make a decision, but I would not mess around with this at all,' " Breuer explained of the doctor's diagnosis.
Johnson, who recently flew to London to attend the funeral of a close friend while on the road with the band, called AC/DC management and later spoke to Young to explain the situation.
"He said he just called and gave that information," Breuer said. "He didn't say he wanted to quit. He didn't say he was done. He called with that information, and two days later, he read in the papers and heard on Twitter and everywhere else, 'Brian Johnson going deaf canceling tour.' A day later, and it was 'Oh we're gonna have guest singers.' "
Breuer said Johnson wasn't upset about his hearing condition. He was heartbroken by the way he had been treated by the band he has fronted for 36 years.
…"I went over the house," Breuer said. "He was depressed. I've never seen him down before. He was upset that he feels like he kind of got kicked to the curb."
"I said, 'Don't you talk to the band?' " Breuer continued. "He goes, 'It's not what you think, man.' "
"I can't wrap my head around that," Breuer said.
Johnson had a conversation with Young, albeit mostly one-sided, the day Breuer visited his home.
"(Brian) said, 'I had a conversation with Angus,' and he was just like, 'He doesn't speak. He doesn't speak,' " Breuer explained.
As Johnson relayed his situation to Young and hoped to plan a future course of action, the guitarist merely replied, "Aye," a number of times with no tangible response to what the singer was saying.
"(Brian said) 'It sounds like you're preoccupied. I just want to let you know, I'm here. I don't know if I can do every show, but I'd really like to do whatever shows I can.' "
Breuer said Johnson senses he's already been replaced.
"There's been no answer (from the band)," Breuer said. "He feels like he heard from someone that they already hired somebody, it just hasn't been announced yet."
"I was like, 'Brian, Angus is a monstrosity, but guess what? I'm watching you half the time as well. You are the face of the band with the hat and the way you sing. I think of AC/DC, and I think of you and Angus,' " Breuer told his friend.
"No offense to anyone else in the band, but I just think of Brian Johnson and Angus. I don't think he believes that to a degree. It was a little weird hearing him talk like that."
He always says, 'I'm blessed, I'm blessed. Don't get me wrong. I'm blessed. This is the greatest thing ever.' But I don't think (he feels like he's part of the band). His wife talks with such pride. I don't think he feels that he's that important. Does that make sense? It's really weird."
…"I'd hate to see (AC/DC) end like that," he said. "Nobody wants to see them continue with a new guy. Why would you want to see them continue? Go out on top. Just take a break and go, 'How do we want to do this?' "
…(Brian) explained how Angus is the youngest guy in the band," Breuer said. "He's convinced Angus wants to continue the next 10 years whether it's him or not. (Angus) wants to write another album and do one more tour. Who's filling those shoes? How do you do that after 40 years? It's just really weird."
Read more at the CantonRep.com.
[Dana's note: Thank you to Harold Taint for passing this along.]
source: cantonrep.com