DEF LEPPARD WITH THE ROYAL PHILHARMONIC ORCHESTRA NEW ALBUM, "DRASTIC SYMPHONIES," SET FOR RELEASE ON MAY 19TH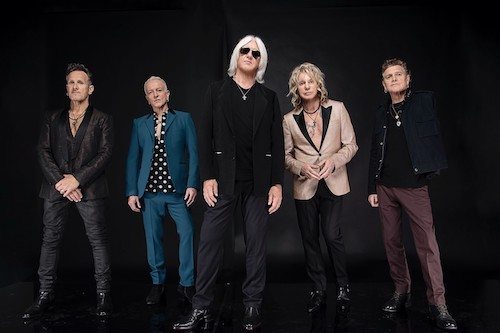 On May 16th, the world will see Rock and Classical royalty unite on Drastic Symphonies – a brand-new euphoric album featuring Def Leppard's greatest produced tracks dramatically reimagined, and sounding more exhilarating than ever before, via the band teaming with London's iconic The Royal Philharmonic Orchestra.
This album represents a bold new approach to Def Leppard's most loved songs. Def Leppard have deconstructed and rebuilt not only some of their most well-known tracks, but also some of their hidden gems as well. By and large, they have intertwined the audio from the original tapes and performed them alongside The Royal Philharmonic Orchestra, consistently ranked as one of the world's leading orchestras. The album additionally includes new vocals and guitars that culminate in stunningly beautiful symphonic arrangements, which at different points you can hear Joe Elliott duetting with his younger self.
Vocalist Joe Elliott says, "Def Leppard has always enjoyed veering off the expected path – working with the likes of Tim McGraw, Taylor Swift & Alison Krauss for example. So, when the offer to revisit some of our back catalogue with the Royal Philharmonic was presented to us, we all jumped at it. Although we're far from the first band to ever do this, working directly with an orchestra at Abbey Road on some of our more orchestrated songs seemed too good of an opportunity to pass up."
The Royal Philharmonic Orchestra was recorded at Abbey Road in March 2022 and is produced by Def Leppard, Ronan McHugh & Nick Patrick (producer of the following RPO/Orchestral albums –Elvis, Roy Orbison, Beach Boys and Buddy Holly), with arrangements by Eric Gorfain (Neil Diamond, Ryan Adams, Christina Aguilera).
Guitarist Phil Collen says, "When the offer of doing an orchestral album with the RPO was suggested, we were honored. But we didn't just want an orchestra plonked over our previous recordings. We decided to create something special where we would have something classic but present it in a brand new way that would involve making everything work in the context of Drastic Symphonies. Recording new parts, remixing previous sounds, taking some of our instruments out so the orchestra could breathe, and literally making a new album. It was an amazingly inspirational process culminating in the live recording of the RPO at Abbey Road studios in London. An absolute team effort that took a good part of a year. It's a new Def Leppard album, it's a greatest hits plus album with some songs rarely heard before, it's a live RPO album and we think it's perfect. We're so proud of how Drastic Symphonies turned out and can't wait to share it to the world."
The album will be available on CD, 2LP black vinyl, limited 2LP colored vinyl, limited 2LP picture disc, CD/Blu-Ray (Atmos) and digitally. Building upon elements from the album artwork, a collection of exclusive merch is now available for pre-order in the band's official store.
Album tracklisting as follows:
• Turn To Dust
• Paper Sun
• Animal
• Pour Some Sugar on Me (Stripped version)
• Hysteria
• Love Bites
• Goodbye For Good This Time
• Love
• Gods Of War
• Angels (Can't Help You Now)
• Bringin' On the Heartbreak
• Switch 625
• Too Late for Love
• When Love & Hate Collide
• Kings Of the World
The vinyl and Atmos versions will also feature an exclusive bonus track
• Have You Ever Needed Someone So Bad
2022 saw Def Leppard release their critically and commercially acclaimed 12th studio album Diamond Star Halos which charted all over the world including a top 5 and top 10 in both North America and the U.K.. Early 2023, saw the band score a U.K. No 1 Netflix film with their cameo in acclaimed movie Bank Of Dave. Joe Elliott is also currently riding high in charts across the world with his guest vocal on the Ghost track Spillways.
The band also embarked on a sold-out stadium tour across North America with Mötley Crüe in 2022 – selling over 1.3 million tickets. February and March 2023 saw the tour wow audiences throughout Central and South America. In May, June and July the must-see tour of 2023 comes to Europe, including a stop at the iconic Wembley Stadium on July 1st.
Follow Def Leppard:  Website,  Facebook, Twitter,  Instagram and YouTube.