AS RECENTLY ANNOUNCED ON EDDIE'S SIRIUS/XM SHOW, ARTIST HUGH SYME'S "IMAGINE THIS" EXHIBITION IN LOS ANGELES AT THE MUSICHEAD GALLERY, SIGNED PRINTS WILL BE AVAILABLE FOR PURCHASE AT THE GALLERY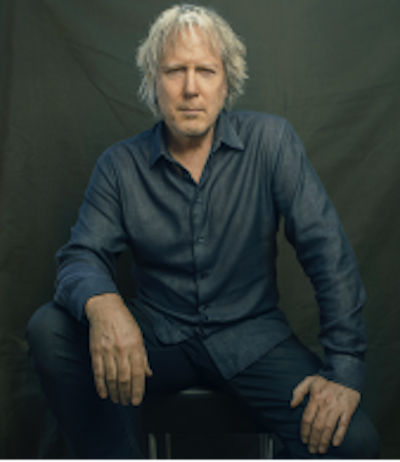 50 years, and counting, creating timeless works of art Hugh Syme is a award-winning Canadian illustrator, designer, graphic artist and musician who will open a new exhibition Hugh Syme: Imagine This in California beginning June 1st at Musichead Gallery in Los Angeles, as was announced recently on SiriusXM's TrunkNation hosted by Eddie Trunk.
The Los Angeles gallery will mark the third in a series of gallery openings for Syme, having hosted stops in Indianapolis in 2019 and Austin in 2022. Musichead Gallery is located at 7420 Sunset Blvd, Los Angeles, CA 90046.
For tickets and details on the June 1st Hugh Syme: Imagine This event please visit: musichead.com/blogs/events/hugh-syme-imagine-this.
The accolades for Syme's inspired work in music include numerous JUNO awards — the Canadian equivalent of the Grammys — and an induction into the Album Cover Hall of Fame. Syme is best known for his amazing artwork and cover concepts for world famous musicians and bands including Rush, Dream Theater, Celine Dion, Whitesnake, KISS, Bon Jovi, Def Leppard, Iron Maiden, Megadeth, David Coverdale & Jimmy Page, The Allman Brothers Band, Styx, Alice Cooper, Graham Nash, Aerosmith, Earth Wind & Fire, Queensrÿche, Joe Bonamassa, The Band, Tesla, and many more. The exhibition in Los Angeles, which will include more than 30 of Syme's works, will open with an invitation only event on June 1st and Syme will be in attendance.
The exhibition at Musichead Gallery in L.A., which runs June 1st through July 5th, will include a selection of some of Syme's best-known works, as well as a large assortment of original artwork from his portfolio. Prints will be available for purchase, and the gallery will continue to include an ongoing assortment of works by Syme following the exhibition's end. A special collection of four limited edition prints will also be made available at entry level pricing at the Musichead Gallery.
"Hugh Syme's imagery has elevated the world of album cover art by giving visually reflective meaning to the music inside the package. He provides a deeper connection with stunningly creative works," said Sam Milgrom, Founder/Curator at Musichead Gallery.
Hugh Syme: Imagine This VIP event & gallery opening details: 
• VIP reception — June 1st from 7-8 pm Invitation only.
• Ticketed reception – 8-10 pm
• Ongoing exhibition hours — Musichead Gallery is open Monday through Saturday from 10 am-5 pm.
• On display – June 1st-July 5th
More about Syme:
The long-time partnership between Syme and Rock & Roll Hall of Fame inductee Rush began in 1975 with the creation of artwork for the album Caress of Steel and also includes the band's iconic Starman logo. Over the decades Syme has created timeless album artwork for some of the most successful albums in history. In recent years Syme has continued creating artwork for Rush's extensive 40th anniversary limited edition box sets and other artists across the globe including Joe Bonamassa, Talas, Beth Hart, Rivers & Rust (featuring Kyle Cook of Matchbox Twenty) and for Graham Nash's book Our House. Beyond his work in music, Syme's celebrated for creations in other media, such as books, film and advertising. He has also been commissioned for work in the corporate world by the likes of Disney, Virgin, Paramount, Universal Studios, Microsoft, Forbes, Sam Adams, Time Warner, Verizon Wireless and many major pharmaceutical companies. Follow Syme on Instagram at @symestudio.
Syme is also a musician who plays piano, keyboards and guitar and can be heard on albums by the Ian Thomas Band (of which he was a member for five albums), Jim McCarty (of The Yardbirds), Alice In Chains (keyboards on their cover of Tears for the Rush 2112 40th Anniversary box set) and Tiles (progressive rock band from Detroit). Syme appears as guest keyboardist on four studio albums by Rock and Roll Hall of Fame inductees and longtime friends, Rush, including the legendary synthesizer intro to 2112: Overture.
Syme also co-hosts the Music Buzzz Podcast with musician Dane Clark, who is the drummer for John Mellencamp since 1996, and award-winning entertainment marketing executive Andy Wilson.
For more information on Hugh Syme, visit: hughsyme.com.
On Instagram @symestudio/ instagram.com/symestudio.
On Facebook: facebook.com/symestudio.
Listen to the Music Buzzz Podcast ft. Syme as co-host: musicbuzzzpodcast.com.