WOLFGANG VAH HALEN'S MAMMOTH WVH SIGN WITH BMG FOR SOPHMORE RELEASE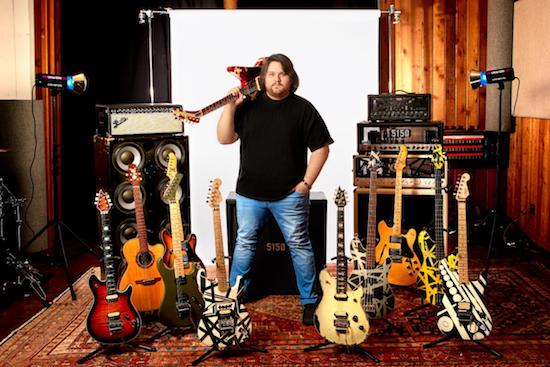 Chart-topping, Grammy-nominated rock band Mammoth WVH has signed a new global recordings agreement with BMG to release its upcoming new studio album. Led by Wolfgang Van Halen, the musical architect behind his solo band Mammoth WVH, this marks his first recordings deal with BMG, who also serves as Mammoth WVH's music publisher.
Van Halen said, "The Mammoth team and I are so excited to now be a part of the BMG family. The entire team have welcomed us with open arms and have been nothing short of wonderful. I couldn't ask for better partners for the future of Mammoth."
Dan Gill, BMG EVP, recorded music, said, "It is rare to come across an artist with such exceptional musical abilities and Wolfgang is that shining example. His new album firmly establishes himself at the forefront of the genre and is destined to become the torch bearer for the new generation of rock artists."
Emi Horikawa, BMG VP, creative, said, "From our very first listen to Mammoth WVH, we knew this was something truly exceptional. Wolfgang's songwriting and sense of melody, coupled with his ability to reinvent the elements of rock's power and energy, is sheer talent. We are proud to represent his music publishing and now call BMG his label home."
Mammoth WVH's debut album was released via Explorer1 Music Group/EX1 Records.
Featuring Wolfgang on vocals and all instruments, Mammoth WVH was met with positive reviews and topped Billboard's Top Hard Rock Albums and Top Rock Albums charts.
Mammoth WVH's first single, Distance (see it here), reached number one on the MediaBase and BDS Active Rock Radio charts. A tribute to Wolfgang's father, legendary Van Halen guitarist Eddie Van Halen, the song was not originally intended to be on Mammoth WVH's debut album, but due to the overwhelming response to its accompanying video, which has been viewed over six million times on YouTube, it was added as a bonus track. All of Wolfgang's proceeds from Distance are being donated to Mr. Holland's Opus.
Last November, Mammoth WVH released a digital deluxe edition of the debut album via EX1 Records. The new digital deluxe features the bonus track from the Japanese version of the album, Talk & Walk, as well as two previously unreleased tracks, As Long As You're Not You and Goodbye. Read more details about this release, and listen to Talk & Walk, here.