DEF LEPPARD'S JOE ELLIOTT ON THE KEY TO THE BAND'S SUCCESS, "IF I KNEW THE ANSWER TO THAT, I WOULD BOTTLE IT AND SELL IT"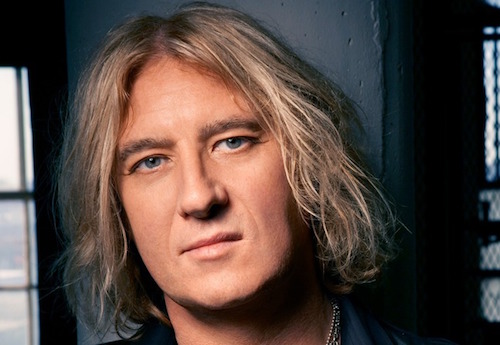 Shelby Hartin of the Bangor Daily News spoke with Def Leppard frontman Joe Elliott. Key quotes from the feature article appear below.
On how the band has managed to transcend generations:
"If I knew the answer to that, I would bottle it and sell it. If you catch people at a certain age and don't mess up, you can keep them forever. Like Bowie had me forever. Mott the Hoople had me forever. Queen, T. Rex — all these bands that I caught when I was 12 or 13. You know, they were my bands. And all you can hope for is that we were the same for the generation down from us and that we were one of the bands that they clinged on to."
Speaking about the band's camaraderie:
"The fact that we've actually managed to stay together without beating the crap out of each other is miraculous. We've had plenty of things put in our way. It gives you perspective. When your first guitarist is kind of sacked, or asked to leave, because he has an enormous drinking problem, your other guitarist eventually dies of [an addiction], and your drummer, in between, loses an arm … those kinds of things that would split lesser bands, or lesser incidents that would split even better bands — we don't really take them as seriously as most people would, because when you've had those obstacles, they kind of pull you together and give you perspective. We're really fortunate that we've been on the same page, pretty much every day since we've been together. We've wanted to be as positive and uplifting as we can and make music that makes people smile."
Talking about how the group's music has endured through the the years:
"With us, it's like pop rock, and I say that for all the best reasons, because we're a rock band and we've done pop hit singles. At the peak of our power, we were rubbing shoulders with the likes of Janet and Michael Jackson, Prince, Madonna, Celine Dion. We were the sore thumb in the top five. I thought that was fantastic, because we were representing rock in a pop environment. That meant that our music was more accessible than most rock bands and that's because we were embracing more than rock. Most rock bands just listen to rock music, but we were listening to everything from the Beach Boys to Kate Bush to Tom Waits to R&B and Motown. We grew up just liking songs. I think that's why we gravitated toward each other. We were never afraid to really like that song by Jackson 5 or by Marvin Gaye. … That's all part of why we are who we are. We just want to entertain and have fun with it. It's just where we came from. Our upbringing led us in that direction, and there's no shame in that. There's no harm in having a band that entertains. That's what people want to see."
Read more at the Bangor Daily News.
source: bangordailynews.com