DEEP PURPLE DRUMMER IAN PAICE SUFFER MINI STROKE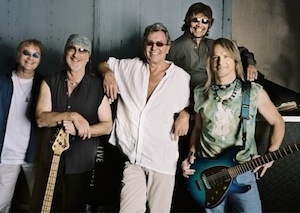 Deep Purple had to cancel two shows overseas because drummer Ian Paice suffered a mini stroke.
Paice has posted the following message on the band's Facebook page:
"To all the people who were expecting to see Deep Purple in Sweden and Denmark this week I would like to let you know the reason the shows were not possible, and also to stop all the speculation and rumours.
On the morning of the 14th of June I woke up to find that the right side of my body was feeling numb and I could not control my right hand and fingers.
So I had myself admitted to hospital where I was diagnosed with having suffered a "mini stroke," or TIA. The hospital staff in Stockholm were amazing and started my treatment straight away.
After both CT and MIR scans there was found to be no serious or permanent damage. As of this moment all I am suffering is a slightly numb right side of the face [and] a tingling sensation in my right hand. My dexterity in the hand is coming back quickly and I fully expect to re commence touring next month.
So now I have a set of tablets which have to be taken every day to ensure it doesn't happen again!. So sorry for not being able to play for you. And I'm sorry for myself!"
Clearly the issue is serious since it means Paice will break his 48-year streak of never missing one of the band's shows since the group formed in 1968.
additional source: Gerry Martire at q1043.iheart.com