DAVID LEE ROTH SAYS HIS LAS VEGAS RESIDENCY WILL "NOT SOUND LIKE VAN HALEN"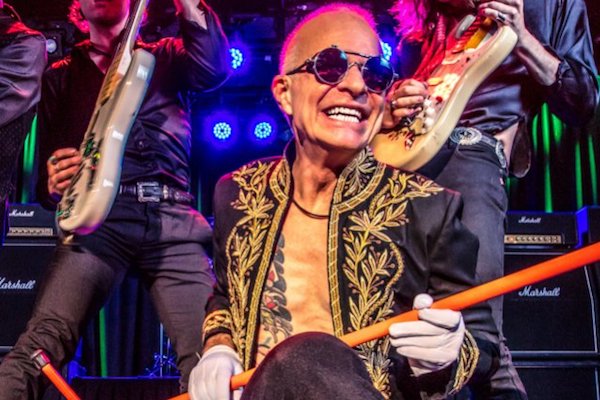 Jeff Hausman of the Van Halen News Desk spoke with frontman David Lee Roth. Highlights from the interview appear below.
VHBD: Who are you taking out to Vegas [for your residency]?
DLR: Oh now, I like a surprise. I like a secret. I like the idea of… what we're bringing is based on the sound. This is not all glamor and tinsel and icing and cupcake broadway horses–t. A lot of hard rock turned into that, and that's why there wasn't any on the VMAs. And I fully get it. We take it serious. The same way you take these songs serious. People have gone off to war with the songs. Some people didn't come back to it. I've had people who've had children who've gone on to become doctors, lawyers, Indian chiefs and Navy Seals. And I know one guy who is probably reading this right now who's requested he be buried to Hot For Teacher.
VHND: For your shows next year, I've heard that you'll have two, and in some cases even three guitarists for certain songs…
DLR: We do not sound like Van Halen live. You have not heard this. Van Halen live is lead guitar, bass, drums, sing. Here, we bring it the way a record brings it. To do that requires 2 or 3 guitars. We have 5 people hollerin.' It's BIG ROCK sound. It's not Just a Gigolo. It's not brass band. That was a quickie vacation. And this is not a tribute band. I wrote these songs. I structured these songs. And we bring the respect and dignity to what we are doing the same way that the Lincoln Center brings to the Beethoven Festival with the latest Philharmonic. It's a new orchestra, and a whole new sound.
In order to enhance the audio experience …you double the guitars, you triple, you quadruple. And you make up for the lack of visual, or boom in the room. Anybody who's been in the middle of any big concerts today rock-wise, or the electronica dance crew… oh my God, I was at the Pink Pop festival, which was primarily guitar bands. And I did a remix of Jump with Armin van Buuren. He's Dutch, a national hero. He was the only act who treated 70,000 people to surround sound. Everybody else in the guitar bands – modern or otherwise- played traditional presentation public address.
And when he came on with Jump in 360 degrees… Wooo! Put the Boom in the Room! Make your ass get bumps when the bassman thumps. Now, these are technical terms. I intend to illuminate it when you get to Vegas…Are you with me? [Laughs]
VHND: Your promo material shows most of the setlist, and it looks perfect to me. I think a lot of people are excited to hear your solo material which they haven't heard in a long time. Yankee Rose, Going Crazy, California Girls, Just a Gigolo, Just Like Paradise… really fun stuff that would go superbly with a Van Halen set.
DLR: They're excited to hear everything at any given time because I am the voice of a generational prison break. Now let's start with how many songs. You only need hve songs. You MUST have have songs in order to play Las Vegas. It says that in the Bible, or the Torah, or somewhere, we're pretty sure.
Well, I have TWENTY songs, that if I sing ANY of them… S–t, I'm in the DNA…if you listen to guitar rock, there's a little bit of David Lee there. And in Las Vegas,… I AM Las Vegas. That includes rock 'n roll. We were gonna have Jason Aldean play with us. He's modern country. We include that. We include hip-hop. I can't walk down the driveway for 20 meters without somebody going, "You're that white boy!" And you bet I am.
VHND: About the future… do you see this type of Vegas residency as something you might do for years to come?
DLR: Of course! And this is one of those reasons that everybody is moving into these kinds of environments. It's everybody from Bruno Mars and Gaga to Aero Jones and the Journeys. Alright? And it's the best place to come and see us of any nature or any bracket or variety – country, folk, hip-hop, does not matter. Because, instead of slamming into the local basketball arena, and hoping you transcend the vulgar and obscene acoustics with the biggest sound system ever… well, everybody [in the band] is tired from traveling for 10 hours. Everybody's coughing because they've got the same cold. Everybody's worn out from the miles in and out of the hotels, etc. The sound man gets… Jesus… maybe four hours to tune the sound. The front guy gets maybe a couple hours to do his lights, and we all kind a hope it just f–kin' gels together…
Or…! I can bring you horses that are well rested, and ready to fuckin' run. I can bring you a staff of people who are alert and tuned to what they do as artists, and desperate people in search for perfection…So, if it cost a dollar extra, just remember, you can save it on the all-you-can-eat Elvis buffet right around the corner after the show! [Laughs].
There is an attitude to Las Vegas. It's where we go to celebrate whatever "living life large" of means to you. And it's the best place…And there's every size room. I think the room I'm playing is 2,500 people? That's per-fect! You saw the Rolling Stones at Deacon Theater … it's about the same size room… perfect! And you can control the room with surround sound. You can use your lights…
VHND: Have you thought about a Meet 'n' Greet experience?
DLR: Yes I have. But, I thought I might not be able to recover from that for several days. [Laughs]…
VHND: And now, the Van Halen question. I know that they're on their regularly scheduled hiatus…
DLR: ….I've paid a price for the time off, frankly. Enough said there. I hope the best for the fellas. But I don't know what's coming up with Van Halen. It's time for me to use whatever talents and skills that I have. I'm bettin' the rent on it. You're going to have a ball. This is the smile that launched a thousand hips.
Read David Lee Roth's entire interview with the Van Halen News Desk, here.
For more information on David Lee Roth's Las Vegas Residency at the  Mandalay Bay Resort And Casino, please go here.