DAVE MUSTAINE ON HIS CURRENT RELATIONSHIP WITH HIS FORMER METALLICA BANDMATES: "WE'RE PROBABLY BETTER OFF NOW "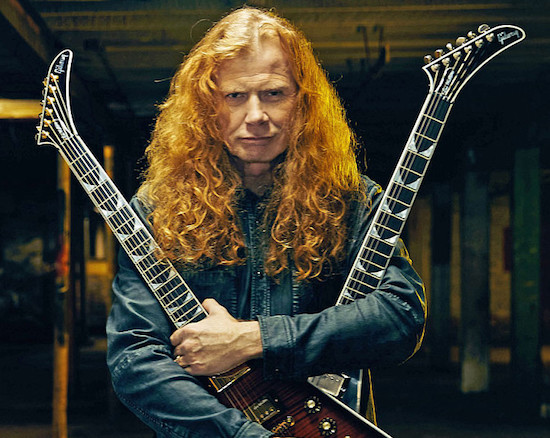 Megadeth frontman Dave Mustaine, discusses his current relationship with his former Metallica bandmates, with Heavy Consequence's Greg Prato.
Metallica's former bassist Ron McGovney recently offered praise to Mustaine, while tweeting about the the band's early demo No Life 'Til Leather, writing, "Dave Mustaine just kills it on this tape … He leaves the rest of us in the dust."
In response Dave said, ""Well, I've always loved Ron. And I was pretty vocal about how I felt when we would come home from the Bay Area, [and frontman] James [Hetfield] and [drummer] Lars [Ulrich] would always pick on Ron. … And it made me resent James and Lars . They're drinking vodka from a jug with a handle on it and spitting food into each other's mouth in the back of a truck, and I'm watching this – they take one of Ron's shoes and throw it out the back of the truck. And they're expensive high-tops. And even if they weren't, that's f–ked up. So, I've always liked Ron and I hated the fact that he got in between trying to protect James when I popped him in the mouth. But we've stayed friends ever since."
He continued, "It took a while for James and Lars and I to kind of come around and become friends again. But I would say we're probably better off now than we've been for a long time. And it comes and goes. I think the emotions between all of us, it's probably understandable for a lot of people who break up with someone, it's like a marriage and you part ways and sometimes you try and justify in your head the decision that you make. And sometimes the facts are all you need, and other times you feel compelled to kinda tell the story and you don't really need to. And then there are people who tell the story and then add little salacious facts – like a tape recorder that has a feature to add stuff that never happened. So, I just look at that whole period with Metallica as something that was really great for me. And I wish them the best."
Read more at Heavy Consequence.
Both Megadeth and Metallica are on tour this year in support of their respective latest albums, The Sick, the Dying… and the Dead and 72 Seasons. Get Megadeth tickets here, and Metallica tickets, here.