"CONCERT FOR RONNIE MONTROSE-A CELEBRATION OF HIS LIFE IN MUSIC" TO BE RELEASED ON DVD DECEMBER 10TH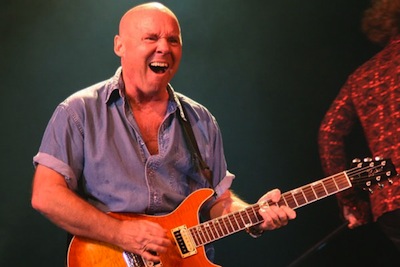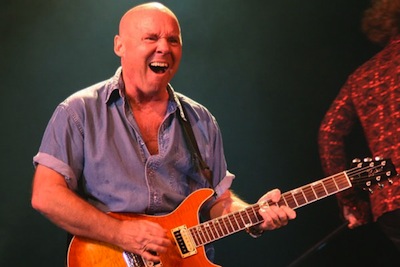 When Ronnie Montrose passed away on March 3rd, 2012, friends and musicians immediately wondered what they could do to pay homage to one of rock's all-time legendary and influential guitarists. The result was some of music's most renowned artists uniting for a concert only a month and a half later (April 27th) and performing Ronnie classics throughout the evening, which will now make its official DVD release on December 10th, 2013, Concert for Ronnie Montrose – A Celebration of His Life In Music.
Recorded in San Francisco at the historic Regency Ballroom and mixed in 5.1surround sound, the DVD features performance by Ronnie's past band members in
Montrose (Sammy Hagar, Denny Carmassi, Bill Church with Joe Satriani), Gamma (Davey Pattison, Denny Carmassi and Glenn Letsch with Marc Bonilla), performing both groups' hits.
Additionally, Ronnie's colleagues and people he mentored and produced over the 40 years of his career are featured as well, including Neal Schon (Journey), Ricky Phillips (Styx), Steve Smith (ex-Journey), Ed Roth, Jimmy Paxson (Stevie Nicks), Jeff Watson (ex-Night Ranger), Tesla, Eric Singer and Tommy Thayer (Kiss), Eric Martin (Mr. Big), and more.
The DVD will also include interviews, bonus features, a photo gallery, and an additional set of Ronnie's hits by an all-star band featuring Chuck Terpo,
Mario Cipollina, Tal Morris, Dave Meniketti and the members of Y&T. This was recorded and filmed at Bob Weir's TRI Studios.
The iconic and legendary Ronnie Montrose has been called the Father Of American Hard Rock-an innovator and an incendiary guitar genius. In his short time with Van Morrison, Ronnie had created the iconic guitar riff for the classic song Wild Nights. In the Edgar Winter group he left even a bigger Mark with his catchy heavy-handed riffs on songs like Free Ride and Frankenstein. But it would be his self-titled release, Montrose that would become the cornerstone of American hard rock. This debut in 1973 crafted such classics as Rock the Nation, Bad Motor Scooter, and Space Station #5. It laid the ground work and became the template for bands like Van Halen and countless subsequent musicians. His musical Journey lead him to the creation of GAMMA where he crafted songs like Voyager, Thunder And Lighting and Ready For Action. Ronnie was always searching and reinventing himself musically. Venturing through a brief instrumental period he brought us both Open Fire and his masterpiece version of Town Without Pity.
Now, the fans will be able to experience the music of Ronnie once again, with the new DVD, Concert for Ronnie Montrose – A Celebration of His Life In Music.
Concert for Ronnie Montrose – A Celebration of His Life In Music track listing:
1. Overture
2. Open Fire
3. Town Without Pity
4. I Don't Want It
5. Little Suzi
6. One Thing On My Mind
7. Free Ride
8. Frankenstein
9. Thunder And Lightning
10. Razor King
11. No Tears
12. Ready For Action
13. Fight To The Finish
14. Voyager
15. Lighthouse
16. One And A Half
17. Good Rockin' Tonight
18. Rock The Nation
19. Make It Last
20. Bad Motor Scooter
21. Rock Candy
22. Space Station No. 5
23. Connection
Bonus Songs:
1. Good Rockin' Tonight
2. Rock Candy
3. Oh No You Don't
4. Paper Money
5. Wild Night
For more information, please visit ronniemontrose.com
Narrated by our very own Eddie Trunk, watch a trailer for the DVD below.