NEW KILL DEVIL HILL SONG PREMIERE! AN EDDIE TRUNK EXCLUSIVE!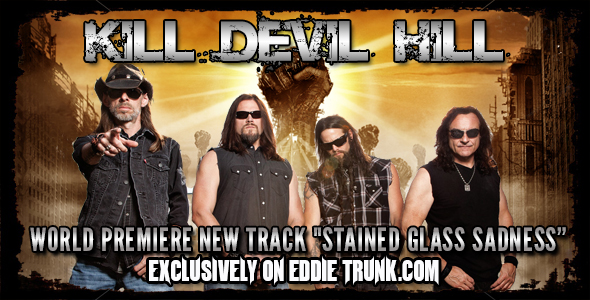 Kill Devil Hill – Stained Glass Sadness – Premiere
Kill Devil Hill, the Supergroup featuring Rex Brown (Pantera/Down) and Vinny Appice (Dio/Sabbath/Heaven & Hell) are releasing a brand new album, entitled REVOLUTION RISE, on Oct 29th.  We've got the world premiere of a brand new song here!  Check out "Stained Glass Sadness" below.
We talked to Rex Brown about the song.  According to Rex: "This is a song we had before, one of the first that the guys started jamming on with Jimmy Bain playing bass. There's two different sets of drum tracks and two different sets of bass tracks, and multiple layers of guitar, and it's a mammoth, huge sounding song. The melodies fit the song perfectly – this album is really Dewey's time to shine, his vocals are so powerful."
Kill Devil Hill is releasing a new song every day leading up to the release.  You can listen to the rest of the tracks here – All Released Streaming Tracks
The CD is also available for Pre-Order.  The first 500 people who pre-order the album through THE BAND'S official merch store receive a signed CD and everyone who orders is automatically entered to win a Rex Brown Signature Spector Bass autographed by the whole band.  There is also a pre-order run through CM Distro that offers a different set of items, so be sure to check out both!  Pre-Order the CD Here
Kill Devil Hill hits the road to support the album on Oct 26th.  CLICK HERE FOR TOUR DATES.  VIP Packages are available on all dates.  Fans can attend Soundcheck, Meet the Band, and get some exclusive merch.  CLICK HERE FOR VIP PACKAGES!