CLASSIC ROCK MAGAZINE VOTERS DECIDE JIMMY PAGE'S PLAYING ON "STAIRWAY TO HEAVEN," BEST ALL TIME SOLO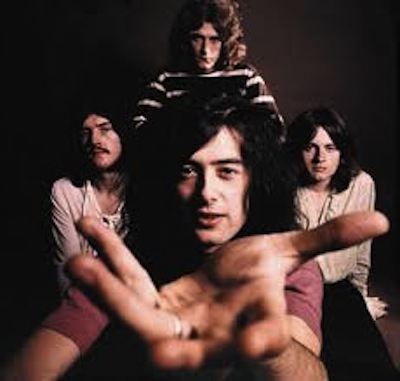 Jimmy Page's guitar solo on Led Zeppelin's Stairway To Heaven has been voted the greatest ever by Classic Rock magazine.
His work on the 1971 track was voted number one by a panel of critics, bands and readers in the new issue of Classic Rock magazine which features the 100 Greatest Guitar Solos.
But despite the plaudits, Page says it's not his best but "it's pretty damn good."
Jimmy Page tells Classic Rock, "Is Stairway To Heaven my best Zeppelin guitar solo? No, but it's pretty damn good. The solo was done very quickly – in actual fact there were already layers underneath, the bottleneck you can hear was on before the solo.
Anyway, I just said, 'Roll it,' took a deep breath, that's what I usually do, and then go. I had a couple of cracks at it because you didn't have as many options as you would have now. Back then you had 16 tracks and could only put guitar solos down where the vocal wasn't.
"You'd save maybe three tracks to lay guitar solos into which meant you could have two or three cracks at it and then choose the best."
He adds: "If everyone else says it's my best solo then that's great, that's good, but there are others that I prefer."
When asked if there's a particular solo that has given him trouble, Page said, "I don't dread it, but the one that was testy, to say the least, to try and replicate, or at least to get a mean average of all the guitar parts on the record, was Achilles' Last Stand. I really set myself a challenge to try and do that onstage with one guitar."
Other solos to feature in the top 10 include Pink Floyd's Comfortably Numb, Eagles classic Hotel California, Black Sabbath's Paranoid and Prince's Purple Rain. See the top 10 below.
The full list of the 100 Greatest Guitar Solos features in the new issue of Classic Rock magazine.
Classic Rock's 100 Greatest Guitar Solos Top 10:
1. Jimmy Page/Led Zeppelin – Stairway To Heaven
2. David Gilmour/ Pink Floyd – Comfortably Numb
3. Don Felder and Joe Walsh/Eagles – Hotel California
4. Allen Collins/Lynyrd Skynyrd – Freebird
5. Jimi Hendrix/The Jimi Hendrix Experience – All Along The Watchtower
6. Eddie Van Halen/Van Halen – Eruption
7. Brian May/Queen – Killer Queen
8. Slash/GN'R – Sweet Child Of Mine
9. Prince/Prince And The Revolution – Purple Rain
10. Tony Iommi/Black Sabbath – Paranoid
What is your favorite solo?
source: teamrock.com