BUCKCHERRY SINGER JOSH TODD'S BAND, JOSH TODD & THE CONFLICT, SIGN WITH CENTURY MEDIA RECORDS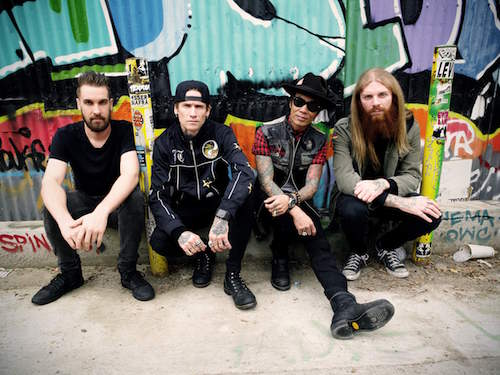 One of the most prolific hard rock vocalist of all-time, Josh Todd (Buckcherry), has returned with an amazing and dynamic, new project appropriately titled, Josh Todd & The Conflict. The group have just signed a world-wide deal with Century Media Records and look to release their debut offering, Year of the Tiger, early fall.
In the meantime, they will kick-off this brand new partnership headlining the label's sponsored stage at KISW's Pain In The Grass Festival on June 24th, alongside such acts as Fozzy, Like A Storm and many others.
Todd states, "It was time for me to make a record, it has been two years since I put out new music and that's a long time for me. I am a student of the game and this was an opportunity to not just make a traditional sounding rock record like I have been doing in the past. The Conflict stuff is heavy, melodic and honest, with a lot of risk taking and these are the records that bring out the best in me.
"Stevie D (Buckcherry) and I wrote all the songs and it was a long time coming. He also co-produced the record with Erik Kretz (from STP) and we had a lot of fun doing it. After working with Stevie beating a lot of songs into shape we started understanding our songwriting language. Stevie is a well-rounded musician and we are in the ZONE on this one. Both of us are in the same boat in every aspect of our lives and have been friends since I was 19. This record is a divine intervention with a lot more to come.
The record is called Year of the Tiger and we are coming to every nook and cranny of the world to pulverize and mesmerize, put it on turn it up and go kick some ass! These guys are great people and amazing players and it comes off live in a BIG way. You don't want to miss it."
In related news, the current lineup of Todd's other band, Buckcherry, has been playing shows without drummer Xavier Muriel and co founding member guitarist Keith Nelson.
Josh Todd & The Conflict:
Josh Todd – Vocals
Stevie D- Guitars/Back-Up Vocals
Sean Winchester- Drums
Greg Cash- Bass
Follow online at facebook.com/joshtoddandtheconflict.