BLACK SABBATH'S TONY IOMMI AND QUEEN'S BRIAN MAY TO TEAM UP FOR A NEW PROJECT?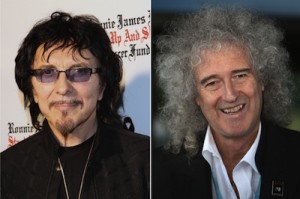 Black Sabbath guitarist Tony Iommi has plans for riffs album" with Queen guitarist Brian May that would allow fans to build their own songs around the musicians' unused material.
Word of the project slipped out in an interview May did with Kerrang! magazine. As reported by NME, Iommi asked, "When are we going to get to work on that album of riffs together? You know what I'm talking about." May replied, "Yes, I do know what he's talking about, and I'm very, very keen. The record he's talking about [was] supposed to be a secret, but I guess he's blown it now."
May got the idea for the album while visiting Iommi's studio, where he was struck by the amount of unreleased material the guitarist has amassed over the years.
"I thought it would be great to make a compilation out of them," May said. "The idea was to put all these riffs out in some form so that people could build their own songs from them. You could make your own music with Tony Iommi on guitar!"
There's no word on a possible release date, or whether the album will actually happen. Iommi is busy for now working on Black Sabbath's new album, which will be the band's first with singer Ozzy Osbourne in 35 years, is due in June.
source: rollingstone.com