BLACK SABBATH'S "THE END OF THE END" TO BE SHOWN IN MOVIE THEATERS, FOR ONE NIGHT ONLY, ON SEPTEMBER 28TH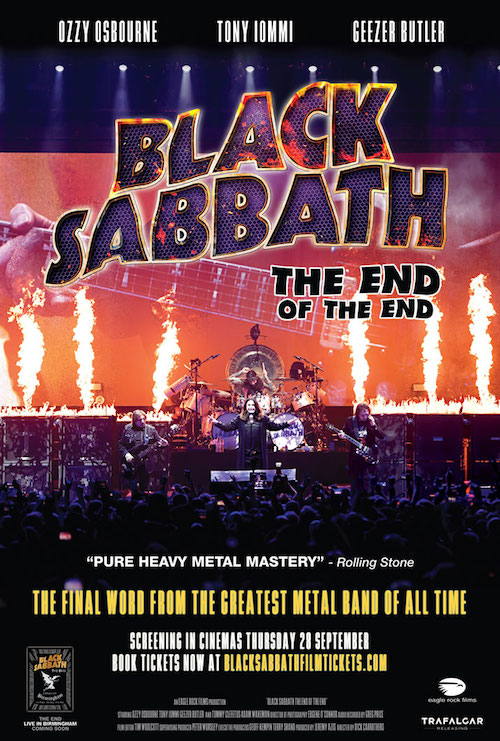 On February 4th, 2017, Black Sabbath took to the stage in their hometown of Birmingham to perform the very last show of The End tour, and what may turn out to be the final show of a career that's lasted close to 50 years.
In September, fans in 1500 cinemas across the globe will be able to relive the evening as Black Sabbath: The End Of The End, the live concert film shot at that final show at the Genting Arena, is shown.
"To bring it all back home after all these years was pretty special," say the band. "It was so hard to say goodbye to the fans, who've been incredibly loyal to us through the years. We never dreamed in the early days that we'd be here 49 years later doing our last show on our home turf."
"What a journey we've all had," adds Ozzy Osbourne. "It's f–king amazing."
Black Sabbath: The End Of The End will be shown in cinemas for one night only, on September 28th. As well as the live footage, the film will include behind-the-scenes footage shot in the build-up to the final show, including studio footage of the band playing songs not featured in the live setlist.
The film was directed by Dick Curruthers, who also worked on Led Zeppelin's Celebration Day, and is being distributed by Trafalgar Releasing.
"Trafalgar Releasing are excited to be expanding our music events with the legendary band, Black Sabbath, and their final ever historic show," says the company's Marc Allenby. "We look forward to collaborating with Eagle Rock and Black Sabbath's management on The End of the End."
To find out where Black Sabbath: The End Of The End is playing and to buy tickets, visit the event's website.
In related news, earlier this week, former Sabbath drummer Bill Ward announced plans to sell off much of of his collection of instruments. Also, Tony Iommi picked up the Golden God award on behalf of the band at this year's Metal Hammer awards show.
additional source: Classic Rock via teamrock.com