BLACK SABBATH POST TRAILER FOR "THE END OF THE END"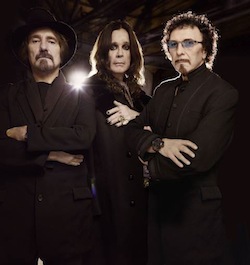 As previously reported, Black Sabbath will be showing The End Of The End will be shown in cinemas for one night only, on September 28th. A trailer has been released, and can be viewed, below.
Announcing the film's release, Black Sabbath said, "To bring it all back home after all these years was pretty special. It was so hard to say goodbye to the fans who have been incredibly loyal to us through the years. We never dreamed in the early days that we'd be here 49 years later doing our last show on our home turf."
Frontman Ozzy Osbourne added, "What a journey we've all had. It's f–king amazing."
To find out more about this release, and where it will shown, please click here.