BLACK SABBATH CANCELS OZZFEST JAPAN APPEARANCE , OZZY TO APPEAR AS A SOLO ACT INSTEAD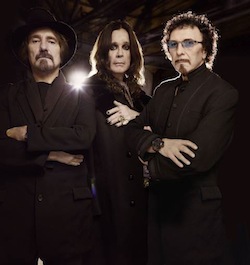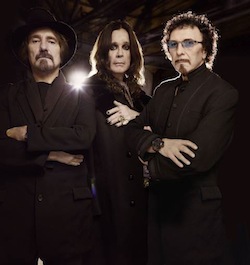 Despite last month's announcement to the contrary, Black Sabbath will not be appearing at this year's Ozzfest Japan, scheduled for November 21st-22nd at Makuhari Messe outside Tokyo, reports blabbermouth.net The show will instead feature a solo performance by singer Ozzy Osbourne, who will be accompanied by as-yet-undisclosed "friends."
No reason was given for Sabbath's withdrawal from the event.
Black Sabbath's appearance at Ozzfest Japan was announced last month through a videotaped message from Osbourne's wife and manager Sharon, who said, "Ozzfest will be back in Japan on November 21st and 22nd. And this will be Black Sabbath's farewell. We're also announcing KORN, who are celebrating their 20th anniversary. Now you can't miss that."
Sharon's announcement didn't exactly line up with the band's previous plans to record a new album in 2015 and head out on one final tour before retiring, unless the band planned a summer release for the record and very limited touring until the last show in Japan. But, she most likely meant that this would be Sabbath's last show ever in Japan — which she did not make clear on the video.
Three original members — Ozzy, guitarist Tony Iommi and bassist Geezer Butler — reunited in late 2011 to record their first album together in 35 years.
The project was hampered by drama over founding drummer Bill Ward's last-minute decision not to participate, as well as Iommi's battle with cancer.
The album, titled 13, came out in June 2013 and was the band's first number one record in the U.S. ever. It was followed by a lengthy and wildly successful world tour.
Ozzy told The Pulse Of Radio at the time that he thought 13 was a great way for Sabbath to end its career if it didn't make another album after that. "For whatever reason if we don't do another studio album, this is where I would have liked to have been at the end of Sabbath, my days with Sabbath," he said. "But life has a funny way of twisting things around, and if we do do another album, it'd be great, but if we don't, this will be a nice way to round it off."
He spoke to Metal Hammer last year, stating, "The whole Sabbath experience this time around was great. We all made friends, we didn't f–k around, we all knew that we had a job to do, and we did it. It was a lot of fun. So we're going to do one more album, and a final tour."
It is not clear whether the band has begun writing a new album yet. Ozzy has also hinted at working on a solo album, and will do a residency in Las Vegas this October.
Iommi said in an interview earlier this year that touring had been "tough" on him while he underwent treatment for cancer at the same time.
Although he completed his treatment last summer, he admitted, "The surgeon told me he doesn't expect the cancer to go away. There's a 30 percent chance that it could, but more than likely, it will come back and it could be any time. I look at life differently now. I could be here another 10 years or just one year — I don't know."
source: blabbermouth.net