AEROSMITH CELEBRATE THE 40TH ANNIVERSARY OF "TOYS IN THE ATTIC," ANNOUNCE DATES FOR THEIR "BLUE ARMY TOUR"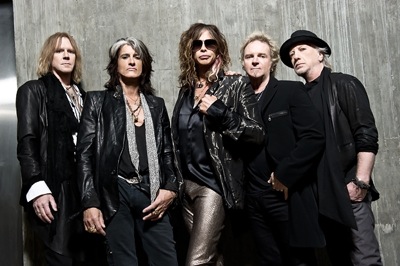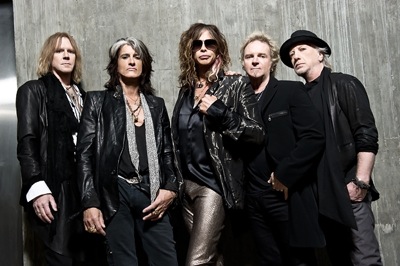 With Aerosmith set for another massive summer tour, the iconic and pioneering band has one more reason to celebrate in 2015: the 40th anniversary of the release of their landmark album Toys In The Attic. Released April 8, 1975 , the album was Aerosmith's third release, becoming an eight-time platinum album and yielding such immortal tracks as Walk This Way and Sweet Emotion.
Beyond the critical acclaim Toys In The Attic generated, musicians have honored the work–which reached #11 on the Billboard album charts–by covering a variety of the album's tracks. Most notably, Walk This Way, a 1986 Billboard Top 4 single collaboration with Run–D.M.C. and a pivotal song in the burgeoning rock-rap genre, featured Tyler (on co-lead vocals) and Perry (guitar). The track went on to become an international hit and earned both groups a Soul Train Music Award for Best Rap-Single (1987). In 1999, AEROSMITH and Run–D.M.C. teamed up again to perform the song, this time with Kid Rock at the MTV Video Music Awards. A few years later, Aerosmith again performed the song–accompanied by 'NSYNC, Britney Spears, Mary J. Blige, and Nelly–to an international viewing audience as part of the Super Bowl XXXV halftime show (January 2001). Additional accolades for Walk This Way include inclusions in: The Rock and Roll Hall of Fame's 500 Songs that Shaped Rock and Roll; Rolling Stone ranked the original version of Walk This Way at #346 on their list of the 500 Greatest Songs of All Time, while the version with Run–D.M.C. is ranked at #293; "VH1: 100 Greatest Rock Songs" included Walk This Way at #35 (2000); Q magazine placed it at #23 in its list of the 100 Greatest Guitar Tracks (2005); Rolling Stone ranked the original version of Walk This Way at #34 on their list of the 100 Greatest Guitar Songs of All Time (2008); VH1's "100 Greatest Hard Rock Songs" included Walk This Way at #8 and VH1 ranked the version with Run–D.M.C. at #4 on VH1 100 Greatest Hip Hop Songs (2009).
Other recorded covers from Toys In The Attic include R.E.M.'s 1986 version of Toys in the Attic, a B-side to "Fall on Me"; the track also appears on the band's Dead Letter Office, as well as the 1993 reissue of Life's Rich Pageant; The String Cheese Incident's take on Walk This Way appears on the jam/bluegrass band's 1997 self-titled live album A String Cheese Incident; and Boston ska band The Mighty Mighty Bosstones included Sweet Emotion on their EP Where'd You Go? Other cover versions include Leo Kottke and Mike Gordon, The Answer, Warrant and Ratt on Sweet Emotion; Velvet Revolver on No More No More; and Sum 41 along with rappers Ja Rule and Nelly on Walk This Way.
Up next for Aerosmith, beginning June 13th, the band will return to the road with their Blue Army Tour 2015. It will take the band's all original members–Steven Tyler, Joe Perry, Joey Kramer, Tom Hamilton, and Brad Whitford–to 15 cities before concluding in Grand Rapids, MI on Tuesday, August 4th. Immediately following the tour, Aerosmith will perform on Friday, August 7th at Tom Benson Hall of Fame Stadium in Canton, Ohio for the Pro Football Hall of Fame's first-ever Concert for Legends. The concert–part of the 2015 Pro Football Hall of Fame Enshrinement Festival–will pay tribute to the legends of the game on the eve of the Enshrinement for the Class of 2015.
Blue Army Tour 2015 dates:
June:
13 Gila River Arena Glendale, AZ
24 The Ford Center Evansville, IN
27 Choctaw Casino Durant, OK
30 State Farm Arena Hidalgo, TX
July:
3 Lake Tahoe Outdoor Arena at Harveys Lake Tahoe, NV
7 Santa Barbara Bowl Santa Barbara, CA
10 Salinas Sports Complex Salinas, CA
13 Prospera Place Kelowna, BC
16 Save on Foods Memorial Centre Victoria, BC
19 Shell Place at MacDonald Park Fort McMurray, AB, Canada
22 Cheyenne Frontier Days Cheyenne, WY
25 North Dakota State Fair Minot, ND
28 Washington Amphitheater Northwest Ridgefield, WA
August:
1 MGM Grand Garden Arena Las Vegas, NV
4 Van Andel Arena Grand Rapids, MI
7 Tom Benson Hall of Fame Stadium Canton OH