BLACK 'N BLUE SINGER JAME ST. JAMES ON UNRELEASED MATERIAL, "TOMMY [THAYER] AND I HAVE ENOUGH SONGS FOR TWO MORE RECORDS"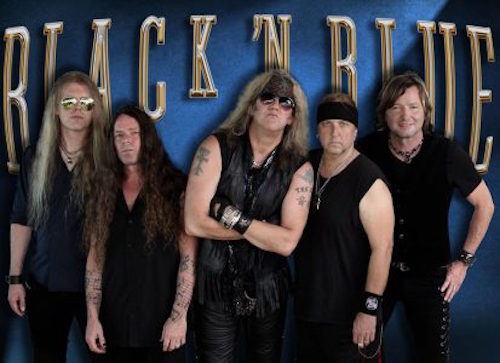 Ruben Mosqueda of Sleaze Roxx spoke with Black 'N Blue Jamie St. James. Excerpts from the interview paper below.
Sleaze Roxx: What are the chances we'll get a new live album by the current Black 'N Blue line-up?
Jaime St. James: I don't want to say never. I'm open to the idea. I have even thought about a new record, but it would be for the art and fun of it. I do miss writing a song and watching it come to life in the studio. I miss that. I'm hooked on it and I miss that — a lot. It's hard to get someone to spend the money to properly release a record like that by a band like Black 'N Blue. As far as a live DVD or something like that? If we can do it right, I'd love to do that but until that happens, I'm happy getting out there playing live.
Sleaze Roxx: A while back, I caught up with Ron Keel and as I was going over his discography. You popped up a number of times on some of those records. What's your recollection of cutting Fool For A Pretty Face?
Jaime St. James: [Long pause] Boy, I barely remember that actually [laughs]. I've done so much work with Keel… I remember the first time Gene [Simmons] threw me into the studio and said "Do something [laughs]!" There were other times where I had more of a say. I hate to say it because Ron is a good friend of mine but I can't recall much about that. I had Ron come in and sing on our Nasty Nasty record on Best In The West. He did an incredible job. I'd like to hear some of those songs again. I did some vocals on their last record [Streets Of Rock 'N' Roll] and I never heard that. I need to do that [laughs].
Sleaze Roxx: I'm glad you brought up Best In The West because that was the next thing I wanted to ask you about. There's a lot of cool things happening there. You have Ron Keel, you have Peter Criss of KISS and the album was produced by Gene Simmons of KISS. What was that environment like?
Jaime St. James: That's an interesting story. I saw Peter Criss and his wife at The Rainbow. I knew we were going to bring in some guests. I spoke with him and said "Hey man, we're making a record and we're working with Gene. You should really come down." Peter said "No, no, no. Gene and I haven't spoken in years." His wife came up to me afterward and gave me his number and she urged me to make him do it. So, I set it up. Peter said "I don't know. Gene and I don't really get along." I finally convinced him to come down and the night he came down, we didn't record a thing that night [laughs]! It was Gene and Peter sitting around the studio telling stories. It was such a cool thing to be have been a part of. Listening to those stories was almost better than having him on the recording and Peter sounds cool on that recording.
Sleaze Roxx: That was a hell of a way to close out Nasty Nasty.
Jaime St. James: It was. I remember Gene being shocked when Tommy and I suggested putting brass on Best In The West. We hired a horn section to come in and he was like "What?!" After he heard what we had done, he was like "You know what you guys were right. [laughs]"
Sleaze Roxx: You must have a number of unreleased songs in the vault, right?
Jaime St. James: Tommy and I have… From '82 through '88, we have enough songs that we could have put together two more records. We recorded everything really cheap during rehearsals on a four-track tape player. There's tons of songs that were never used. We would write for a record with nine-ten songs. We'd write 20-22 songs. They're all on cassette in a box in my garage.I see those songs as a time capsule, because I can't write like I'm 22 or 25 years old anymore.
Read more at Sleaze Roxx.
source: sleazeroxx.com