BEAUTIFUL CREATURES TAP NINE-TIME EMMY AWARD WINNING VIDEO DIRECTOR FOR NEW CLIP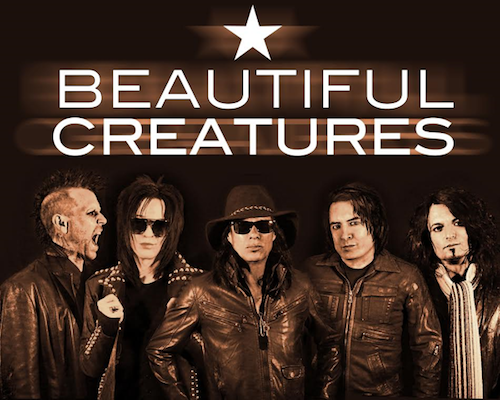 Beautiful Creatures have tapped nine-time Emmy Award-winning and MTV Video Music Award-nominated director Fabio Jafet (Pitbull, Enriqye Iglesias, KISS, Children OF Bodom) to direct the video for the bands first new song in over a decade, Get You High. The track was recently released on Deuce Deluxe.
"I am beyond excited to be working with Fabio again," says lead guitarist Alex Grossi. "He was the perfect director to bring Psycho, California to life on screen a few years back for Hotel Diablo, and this one is shaping up to be next level" Fabio edited Pitbull's I Know You Want Me, which ended up being the number one music video of 2009 on YouTube, with over a 190 million views to date, making it one of the most-watched YouTube video of all time.
Beautiful Creatures founding bassist Kenny Kweens states, "I am very amped up to be working with Fabio and collaborating with him. His reel and resume speaks for itself. I love making and working on videos, so I am hopeful that not only will this be a cool video, but a learning experience for myself."
Beautiful Creatures sophomore record Deuce was produced and mixed by guitarist Anthony Focx, with additional production by bass guitarist Kenny Kweens. Deuce was released worldwide in 2005 and ultimately landed premier placements on the hit FX TV series Sons Of Anarchy, the Walt Disney/Touchstone hit film The Proposal" starring Sandra Bullock and Ryan Reynolds as well multiple other TV & movie soundtracks.
In addition to Get You High Beautiful Creatures Deuce Deluxe features every track the band recorded for the Asian Release (JVC Records) as well as the U.S. Release (Spitfire/Eagle Rock), In one digital package that has been re-mixed and remastered. It also includes new album cover artwork and edits that up until now, were not included in either initial release.
Beautiful Creatures 2017 is:
Joe Leste – Vocals
Kenny Kweens – Bass Guitar
Anthony Focx – Guitar
Alex Grossi – Lead Guitar
Timmy Russell – Drums
For more info, please visit facebook.com/BeautifulCreaturesMusic.