BASSIST BOB DAISLEY DISCUSSES "BARK AT THE MOON," ZAKK WYLDE AND HIS EARLY DAYS WITH OZZY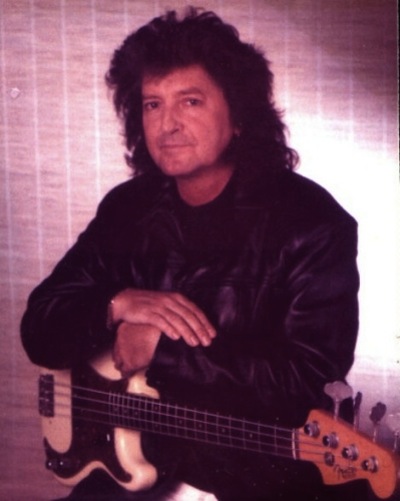 Joel Gausten of JoelGausten.com reports:
On August 23rd, Ozzy Osbourne announced the November 29th release of See You on the Other Side,..This was news to veteran Rock/Metal bassist and songwriter Bob Daisley, who performed on – and wrote/co-wrote the lyrics/music for – a good portion of the material contained in the upcoming release. So, I reached out to him at his home in Sydney, Australia for his thoughts. Highlights of the interview appear below.
Joel Gausten: So, there's a new Ozzy box set coming out. Are you generally made aware when these sorts of things come out?
Bob Daisley: No. Why would anyone bother telling me? (laughs) I'm only one of the writers and performers. (laughs).
Joel Gausten: You've seen the press release about it, and the box set has already received some press. Based on what you've seen, what are your thoughts on what's about to come out?
Bob Daisley: The first thing that came to mind for me was what versions of the first two albums will be in it. We know that the drums and bass were re-recorded, and that was all that was available for a while. Hopefully, for the fans and the posterity of the music, it will be the original real versions.
Joel Gausten: … I thought this would be a nice opportunity to talk about the music you were involved in with him after Blizzard of Ozz and Diary of a Madman. Specifically, Bark at the Moon was an important record for all of you –
Bob Daisley: Bark at the Moon was a real milestone, because nobody knew what was going to happen. Don't forget, by 1983, Randy was gone, Lee Kerslake was no longer in the band and there were only two original members of The Blizzard of Ozz. Nobody – the record company, management – knew how that third album was going to be received. It could have flopped; people may have thought, 'Well, Randy's not on it. It's not the original band.' It was almost kind of experimental. Fortunately, it turned out really well. I love that album; it's a great album. I'm proud of it, because we put a lot into it.
I know Jake E. Lee said that he wrote songs for that. He brought riffs to the table. I remember when we were in New York writing for Bark at the Moon; on the last night in the hotel, I said to Jake that he fitted Randy's shoes admirably. He did a great job. He played all of Randy's guitar parts very well, but he also put his own stamp on them as well. I was really pleased with how it was all shaping up. I said, 'Jake, you've brought in some great ideas.' He said, 'Yeah, but you turn them into songs.' I know Jake may have forgotten that (laughs), but I remember that very well.
I liked working with Jake; we got on well. He was a first-class musician. I thought he was brilliant.
The good thing about working with Jake after Randy was that he wasn't trying to be Randy. He had his own thing. He was Jake E. Lee. He had the Jake E. Lee style and the Jake E. Lee presentation and stamp on everything. It wasn't about re-creating what we had done in the past, and that was great.
Joel Gausten: How did working with Zakk Wylde a few years later compare to working with Jake or even Randy?
Bob Daisley: I got on great with Zakk as well. He was a good guy. We'd go out for meals together and have a good laugh. He was quite young; I think he was like 21 or something when he first joined the band. I think that was in '87. He still had to follow Jake E. Lee, who was not an easy act to follow. But Zakk did well personality-wise, and he had great riffs and song ideas, too.
Joel Gausten: Here's a question that I've seen a lot fans post online: With all the things you went through with the Osbournes, why did you keep going back to work with them?
Bob Daisley: There's a complicated answer to that simple question. To get the full picture of the full story, you would have to read my book, For Facts Sake, because it's in there. The answer is quite involved; it's not a simple sentence or simple paragraph. It was quite complicated, and you need to read the progression of what happened and how it happened and why I went back several times. I could sit here for probably three quarters of an hour and tell you the whole story of how it unfolded, but it would be a lot easier – and in detail – to read it in my book. 
Joel Gausten: Sharon's name has come up a lot in our conversations over the years, but you were in the band with Ozzy – not her. With that said, what would the chances be of some or all of your issues being sorted out if you and Ozzy sat in a room – without Sharon, the lawyers, the managers – and just talked? Do you think that would ever be a possibility?
Bob Daisley: I would never say it is not a possibility, because anything can happen. Ozzy and I always got on well together. We had a similar sense of humor, and we had similar tastes in music… I still remember his very words the first time I went to his house in Stafford. We had a play together, and he had a couple of other people there – this was before the Randy days. This is when he had another guitarist and drummer there. I can't remember their names or where they came from, but Ozzy knew them well and was talking about putting this band together with them. Ozzy had left Black Sabbath for a brief time in 1977, and he was going to have another band then, but it didn't last and he went back to Black Sabbath. These guys could have been from that band, which was also going to be called The Blizzard of Ozz. He even had t-shirts made; I've seen photos of them.
I was sitting in the kitchen with Ozzy, and I said, 'Look, these guys are okay. But to be honest with you, they're not great. They're not world-class.' He said, 'Hang on a minute.' He opened the rehearsal room – which was an integral part of the house – and said, 'Alright, fellas. You can pack up and go home. It's not working out.' It was just like that, just because I said that. When he came back, he said, 'I know this other guitarist in LA. He's good; he might work out. His name's Randy Rhoads.' I just said to Ozzy, 'Well, let's get him over.' So, The Blizzard of Ozz really started with just Ozzy and me. Then, we got Randy over and started auditioning drummers.
I remember when Ozzy phoned the office at Jet Records and spoke to a guy there called Arthur Sharp. Ozzy said, 'Me and Bob get on like a house on fire. The fire brigade's just left.' It was true; we got on great. Personally, there was never a problem between Ozzy and me. We always had a good laugh, we were productive and came up with good ideas. It was just the business side of things and all the logistics that got in the way.
If a reconciliation was ever a possibility, it could have happened before now. If it happened tomorrow, it would be great, but it's a shame it couldn't have happened somewhere along the way without all the other bollocks that went on.
Read more at JoelGausten.com.