AXL ROSE DISCUSSES "APPETITE," NEW MUSIC, SOCIAL MEDIA AND HIS FORMER BANDMATES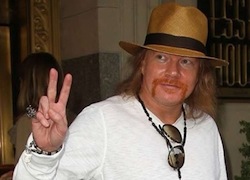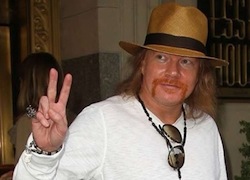 Cameron Adams of Adelaide Now spoke with Guns N' Roses frontman Axl Rose about Appetite For Destruction, new music, social media, the Rock N' Roll Hall of Fame and his former bandmates. Portions of the interview appear below.
CA: A lot of fans were hoping for a 25th anniversary re-issue of Appetite [For Destruction] – was that ever on the cards?
AR: I wouldn't mind re-mastering it sometime.
CA: Is there anything left in the vaults from the Appetite sessions that could see the light of day?
AR: Not that I'm aware of but it's worth a look. There aren't any new or different songs but maybe a couple versions of things that we felt didn't quite make the grade, although most of that made it out as bootlegs back in the day.
CA: Can we expect new music from GN'R in 2013 by chance?
AR: I can give you a definite maybe.
CA: Your brilliant open letter declining your induction into the Rock and Roll Hall of Fame predicted fallout from your decision – was there much of that?
AR: Surprisingly no, there wasn't, and thank you.
CA: You don't seem like someone who trawls Facebook or Twitter or You Tube. Do any of the fan or media comments filter through to you? What are your thoughts on social media?
AR:…Regarding social media, I really don't understand what appears to be the general population's lack of concern over privacy issues in publicizing their entire lives on the internet for others to see to such an extent… but hey it's them, not me, so whatever.
However, when so many seem to be making similar choices regarding their privacy to where it seems to become the norm, and in turn businesses use someone's lack of involvement with social media to marginalize or stereotype and stigmatize them, or use it as grounds not to hire someone, I feel it's extremely unfair and seems a bit Orwellian.
CA: One interesting issue it raised was the question of the romantic idea of an original line-up reforming, no matter the reason behind them no longer working together. Billy Corgan has talked about a "porn fantasy" some fans have of the original Pumpkins line-up touring again, which he continually has to say will never happen – what are your thoughts on this?
AR: I understand the "romantic" thing, the desire, the fantasy. Personally I haven't wanted other bands to reunite, or really enjoyed it when they have. For me generally something always seemed missing.
But Guns is my life, not someone else's. For me there hasn't been a way to make any type of reunion work regardless of money (either talk or legitimate) without jeopardizing what I feel is the well-being and best interests of nearly everyone I'm involved with in the GNR camp (including myself). People here have big investments of their lives in what we're doing. We've worked hard for what we have here now and continue to do so. I know what I went through then. I know what I and all of us have gone through since. People enjoyed the product and the entertainment our lives gave them back in the day, but they weren't the ones actually living those lives together. It's not somewhere I'd go back to or would want to go again. Life's too short.
CA: You are about the only original GN'R member not to have written down your memories – did you read any of them or were you consulted about them writing about events that involved you?
AR: I read Slash's to have an idea what I might be facing then, but haven't read anyone else's. And no I haven't been consulted about anything with anyone.
CA: There are plenty of interesting anecdotes in those books, but what were your memories of Paul Stanley auditioning to produce Appetite?
AR: Paul was unfortunately being led on and used (by, and according to, Slash) at the time (as was I) for fun, with no real intention of working with him, so Steven could meet him.
CA: The books do cover you being late on stage, with your former bandmates being unsure what the delay was. Any hints?
AR: Ok this is a multiple choice answer.
Answer #1: Do we really have to go there?
Answer #2: No comment
Or…
Answer #3: In answering I would like to say that I have no intention or desire to take "shots" at either the old band or anyone from any of our lineups. That said, to answer some questions factually and honestly it may appear that way to some. Unfortunately, in my opinion, that's just the nature of the beast.
I could choose to say nothing or no comment but I feel 1.) These particular questions in this interview don't exactly deserve that response and 2.) I have a right to have my side, perspective and what I not only believe, but know to be the truth regarding several issues with old Guns and our time together out there.
The Illusions' lineups comments that I've read in media or Slash's book were, in my opinion, predominantly public gamesmanship, strategy and politics on their part. Pretending to be unaware or innocent to the public has been a common deceptive tactic often used in regard to what was happening with the band and our relationship with each other. As I've said before, I shouldn't have been on tour when we started in '91.
That had a lot to do with Alan Niven, our then manager, and Slash. In my opinion Alan wanted money and Slash wanted the touring to get the better of me given my circumstances at the time. My safety and well-being were not their concern.
After the first few months things got a little better and primarily for not wanting the crew to be injured for not having enough rest but the damage, especially with media, had been done. Those who wanted to throw stones have had ammo they've used for years whether it's real, hyped, a non-issue, reasons beyond our control, justifiable reasons such as injuries or technical difficulties or just life, doesn't seem, and hasn't seemed, to make a difference. (And all of these issues have been addressed previously elsewhere.)
Another issue has been that each time I have agreed to a tour, I've also had agreements on our show times and start times. Often in dealing with former managers and agents, these weren't reality. It's not something said or explained, it's a show day thing they do for their own reasons which we'll get into a bit similarly with your next question.
And often tours or dates are booked without my having formally given my consent or having authorized them. That's pretty much how this business works.
All of that said I'm not a "punctual" type of person, never have been. I apologize to anyone I've inconvenienced or put out in any way. And for those who've felt they've lost money with any cancellations in the past perhaps you'll find some comfort in that I'm sure I've lost tens of thousands, if not millions, more – especially in the long run. In general I usually don't really go by or live my life by a clock and outside of touring I don't really ask anyone else to. It's not out of lack of respect for anyone or intentional.
I can say I haven't been late because I was watching a sporting event or something equally as ridiculous. The reasons have all been in one way or another show-related or having to do with those involved with the show in some fashion. It's just my reality and I try and work on it. It's been getting better with our tours, especially over the last three years.
In the last three years we've done three Asian runs including Taiwan, Jakarta and a hugely successful record breaking, sold out India run, three European runs including four sold out nights at London's 02 Arena, five shows in Russia, headlined several sold-out festivals such as Reading and Leeds, Rock In Rio, two record breaking, sold out South American tours, an Australian tour (this will be our 2nd), a sold out tour in Central America, a Canadian tour, a sold out US arena tour, a sold out US club tour (that included The Ritz/Webster Hall in NY, The Electric Company in Philadelphia, The Fillmore in Detroit and The Palladium in Los Angeles), New Year's and a sold out month residency at the Hard Rock Hotel in Las Vegas, Puerto Rico, the Middle East, Neil Young's Bridge School Benefit, NY Fashion week gigs w/Varvatos, The Rose Bar and the Hiro Ballroom and a few one off club and private party shows such as at L'Arc in Paris, The Zep in Tokyo and recently for Tommy Hilfiger at LA's The Soho House.
In a concerted effort to make things up to our fans, friends and associates we've gone back to various cities where things have in the past gotten… ahem… "complicated" such as Vancouver, Montreal, Atlanta (twice), Indianapolis, Philadelphia and Dublin and had extremely successful shows without incident.
We've been fortunate to be able to play everything from the smallest clubs to giant stadiums and huge outdoor audiences for a total of 185 shows in 48 countries, in 147 cities with approximately over 500 hours of stage time with an average full show time around three plus hours, performed for over 2,000,000 fans with our current lineup of DJ Ashba, Ron Bumblefoot Thal and Richard Fortus on guitars, Tommy Stinson on bass, Frank Ferrer on Drums and Dizzy Reed and Chris Pitman on keyboards, worked with over 200 bands and artists from Motorhead to Black Label Society, shared bills with Elton John, Aerosmith, Rhianna, Queens Of The Stone Age and Metallica with minimal promotion, minimal to zero label support, minimal nonsense and often with serious management challenges.
And in our defense addressing the nonsense, the relatively small majority of which percentage wise being in general what we feel are at least somewhat reasonable or justifiable such as technical difficulties, crowd control issues, health or injuries, managerial/agent nonsense or simply beyond our control and often as the case may be more hype than reality which again (and definitely not taken for granted) with all things considered, eventually has seemed to work out fairly well.
Read Axl's etire interview with the Adelaide Now by clicking here.