AUSSIE ROCKERS AIRBOURNE TO BE "BREAKIN' OUTTA HELL" THIS FALL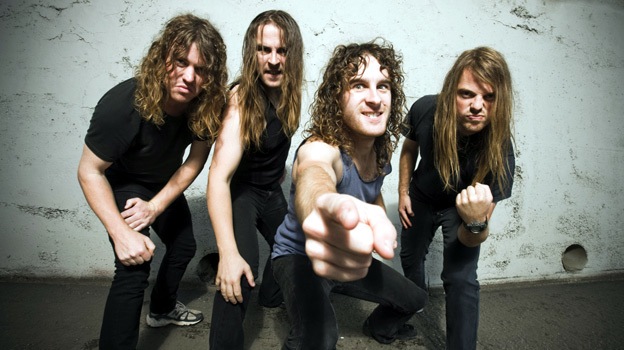 Airbourne have revealed that their fourth album Breakin' Outta Hell will be released in the autumn.
The Australian rockers will also issue the album's title track as a single on July 8th ahead of a North American headline tour and a European trek with with Volbeat.
Breakin' Outta Hell will be released through Spinefarm Records after Airbourne penned a new worldwide deal with the label.
The album is produced by Bob Marlette, who also worked on their 2007 debut Runnin' Wild. It will be engineered and mixed by Mike Fraser, who has previously worked with Aerosmith, Van Halen and Metallica.
Airbourne had originally planned to release the album last year.
The band will be touring in Europe for most of the summer and fall. See dates below.
Airborne tour dates:
Jul 11: Zagreb Tvornica Kulture, Croatia
Jul 12: Graz PPC, Austria
Jul 14: Verona Villafranca Castle, Italy
Jul 15: Dunaujvaros Rockmaraton Festival, Hungary
Jul 17: Vizovice MAster Of Rock, Czech Republic
Jul 20: St Petersburg Zal Oxhidania, Russia
Jul 21: Moscow Volta Club, Russia
Jul 23: Lichtenvoorde Festivalterrein De Schans, Netherlands
Jul 24: Ramblin' Man Fair, UK
Jul 26: Edinburgh Liquid Room, UK
Jul 27: Cardiff Y Plas, UK
Jul 29: Saarbruken Saarmageddon Festival, Germany
Jul 30: Lucerne Blue Balls Festival, Switzerland
Aug 2: Odense Posten, Denmark
Aug 4: Bergen USF Vertfet, Norway
Aug 8: Rejmyre Skogsrojet Festival, Sweden
Aug 12: Leeuwarden Into The Grave Festival, Netherlands
Aug 13: Kortrijk Alcatraz, Netherlands
Aug 15: Poznan Eskulap, Poland
Aug 16: Warsaw Prozima, Poland
Aug 17: Katowice Mega Club, Poland
Aug 18: Summer Breeze Festival, Germany
Aug 19: Leipzig Highfield Festival, Germany
Aug 23: Dublin The Academy, Ireland
Aug 24: Belfast The Limelight, UK
Aug 26: Schleswig Baltic Open Air Festival, Germany
Aug 27: Sulingen Reload Festival, Germany
Oct 28: Hamburg Barclaycard Arena, Germany
Oct 29: Berlin Mercedes-Benz Arena, Germany
Oct 31: Munich Olympiahall, Germany
Nov 1: Linz Tipps Arena, Austria
Nov 2: Vienna Stadhalle, Austria
Nov 4: Innsbruck Olympiahalle, Austria
Nov 5: Geneva Arena, Switzerland
Nov 7: Stuttgart Schlayerhalle, Germany
Nov 8: Zurich Hallenstadion, Switzerland
Nov 9: Cologne Lanxess, Germany
Nov 10: Frankfurt Festhalle, Germany
Nov 12: Leipzig Arena, Germany
Nov 13: Oberhausen Koenig-Pilsener Arena, Germany
Nov 14: Brussels Forest National, Belgium
Nov 15: Amsterdam Ziggo Dome, Netherlands
additional source: Classic Rock Magazine through teamrock.com