ART OF ANARCHY ANNOUNCE NEW ALBUMS DETAILS, POST VIDEO FOR "THE MADNESS"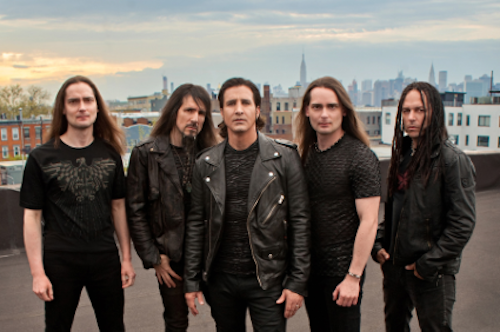 The wait is finally over as Art Of Anarchy gears up to release their highly anticipated new effort, debuting iconic vocalist Scott Stapp (Creed). The blistering, new hard-rock offering, The Madness, is now officially set for a March 24th release. Album art is attached and track-listing is below.
For everything AOA, including upcoming tour dates and news on the band's upcoming album, please visit artofanarchyband.com.
Watch a video for, The Madness, below.
The Madness will be released on March 24th.
Track listing:
1. Echo of a Scream
2. 1,000 Degrees
3. No Surrender
4. The Madness
5. Won't Let You Down
6. Changed Man
7. A Light In Me
8. Somber
9. Dancing With The Devil
10. Afterburner
Lead guitarist Ron "Bumblefoot" Thal hails formerly from Guns N' Roses, while bassist John Moyer first rose to fame as a member of Disturbed. Twin brothers Jon Votta (guitar) and Vince Votta (drums), meanwhile, first gained renown as fixtures on the New York music scene. The most recent addition to the group is Grammy Award winner Scott Stapp, the founder and lead singer of Creed. Stapp replaced the late Scott Weiland (of Stone Temple Pilots) as AOA's lead singer.
AOA evolved organically out of an 18-year friendship between Bumblefoot and the Votta brothers. Jon Votta came to Bumblefoot with the idea of putting together a new band with a diverse group of talent and a uniquely melodic and aggressive sound. The group released their self-titled debut album, Art of Anarchy in June 2015, featuring the late Scott Weiland on vocals. The album showcased a gritty hard rock edge balanced by a powerful focus on innovative songwriting and skillful musicianship. Bumblefoot shines throughout the album not only as band's co-guitarist (and a world class one at that) but also as the producer and engineer on the album. Jon Votta shares lead responsibilities with Bumblefoot and co-wrote the album with Weiland. Vince Votta brings his powerful rock drumming sensibilities and showmanship, while Moyer brings a punchy bottom end that rounds out the sound of AOA.
The band's next chapter begins now: The addition of Stapp and the electrifying new musical direction he brings ushers in a new era for the group. "I'm excited to be a part of Art of Anarchy," said Stapp. "I appreciate collaborating with other talented artists and I can't wait to share our new music with the fans very soon."
Bumblefoot adds, "Scott's style and the personal lyrics he's been writing are taking the sound in a new direction— one that brings out the best in all of us. It's a new chapter for us all, and I'm looking forward to sharing the new music with the fans and seeing what the future holds."
Art Of Anarchy is one of the rare rock bands where each member has a strong identity, and together creates something special. No filler, just raw talent, and dedication to the music and being true to who they are. The members have collectively sold tens of millions of albums worldwide and have a rock pedigree that most artists would be content to rest their laurels on. But while AOA possesses the star power of a rock "super group" in spades, the band's focus is squarely on songwriting and musical craft.