ARMORED SAINT'S JOHN BUSH DISCUSSES THEIR LATEST ALBUM, BEING A "HERITAGE" BAND AND WHY HE DOES NOT LIKE RE-RECORDING OLD MATERIAL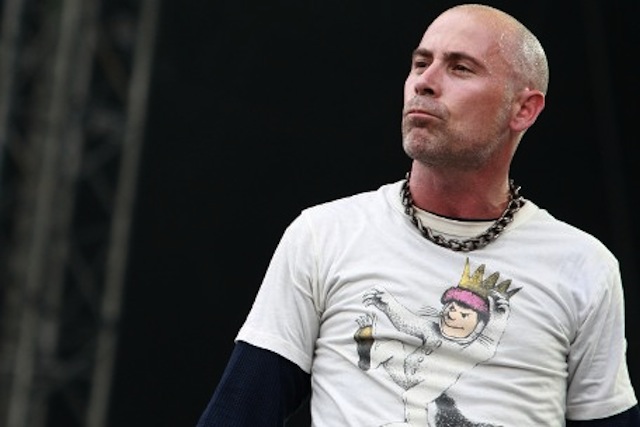 Ruben Mosqueda of Sleaze Roxx spoke with Armored Saint frontman John Bush. Highlights from the interview appear below.
Sleaze Roxx: I'm a little embarrassed that I didn't pick up the new album Win Hands Down until about a month ago. It's brilliant. It meshes the old school Saint sound with the Symbol era Saint. It's damn near perfect.
John Bush: Thank you. Win Hands Down came out in June of last year, but it's still a relatively new and fresh record to us.
Sleaze Roxx: We get bombarded with so much music that some great records get lost in the shuffle. Win Hands Down is one of those records for me. I'm glad that you're still out promoting it.
John Bush: I agree. The video for the song Win Hands Down (see below) was released about three to four weeks before the record. I can't recall exactly. We did a handful of dates with Saxon in May of 2015 before the record was released. We did another video for An Exercise In Debauchery (see below) which was released about three months ago.
At this point it's still our new record. We're a heritage band. A lot bands of our ilk are. When you put a record out, the record can linger for a while and it can be promoted for a couple of years. We're Armored Saint. We're not releasing records that often. La Raza was released five years before Win Hands Down<'/strong> and Revelation was released ten years before that. We move rather slowly. I try to emphasize that it's "quality" over "quantity."
Armored Saint is a band that has been around over 30 years but I think that most people know the stuff from the first eight years of our career. That's just the way that it is. I agree with what you said. I think we've made a "modern" record that stays true to the "origins" of the band. I think Win Hands Down features some of the best writing and performances of our careers.
Sleaze Roxx: Throughout the evolution of the band, you've retained your unique signature sound that sets you apart from others.
John Bush: That's true. I think it's hard to differentiate one band from another these days. I don't think that it only applies to music in the metal world or pop music. I grew up listening to pop music in the '70s. I will put it on Sirius' "70s on 7" and it could be song after, song after, song that I absolutely love. You want to have a sound that is pivotal, but at the same time, you've got to develop it. You're always learning and growing a person; so hence so should your music. It just makes sense.
Sleaze Roxx: How do you feel about the Chrysalis era albums? There's some great music on March Of The Saint, Delirious Nomad and Raising Fear.
John Bush: I'm proud of them. Some moments are way better than others. I'm certainly not going to reveal that because I want people to feel however it is that they feel about those songs. I know people have a connection with their records. It's their feelings and that's good enough for me.
It's weird to me when bands go back and re-record songs and albums. It's like they're trying to right a wrong. To me, it's like who cares? When we made March Of The Saint, records were made and sounded like that sounds. Could we have made a better sounding record now? Of course we could have. Why would we do that? It doesn't matter. As an old schooler, I'd be like "I don't like it as much, I don't like it as much!"
Wait didn't David Coverdale just remake Burn or something like that?
Sleaze Roxx: Right, he recut a bunch of Purple songs with Whitesnake and called it the Purple album.
John Bush: Why? For starters, it isn't Blackmore playing on it. I don't care who is in the band. Ritchie Blackmore has his own style of playing. It's unique. Ian Paice also has his own style of play. I don't know. I mean even his voice sounds way different than it did then. I'm not saying it's better or worse. It's just different. I'd like to hear it live with Whitesnake, that's great. To just redo a bunch of stuff; I just don't see the point. I don't like it. As musician… no wait as a fan — I don't like it. That's just me. [Def] Leppard did the same thing I think. That might have been for a different reason or something. Going back and trying to recreate what you did 25 years earlier in a different studio with a different mindset? Sometimes even different players? I just don't see the point?
Sleaze Roxx: So when you were in Anthrax, the band went into the studio to recut a bunch of "classics." Were you in favor of The Greater Of Two Evils?
John Bush: When I recorded The Greater Of Two Evils — ironically enough — it wasn't too long there after that I left the band. In all honesty, knowing what I know now, I wouldn't have done it. The truth of the matter — when I sang those songs live, they were my muse and I gave them all the love I could and I enjoyed performing them. In retrospect, they didn't need to be re-recorded. I feel the same about recutting Armored Saint — just with these songs, it was Joey Belladonna singing these songs. I sang those live. I was the singer in the band. I didn't need to recut them. I guess I'm telling people not to buy that record [laughs]!
Sleaze Roxx: When Anthrax issued the compilation Attack of the Killer A's — you threw in a new recording where you and Joey traded off on vocals. Were you in the studio at the same time during that?
John Bush: We did it together. It was really neat to do something together. We both thought it was a cool idea. We both embraced it and a cover just seemed easier than to write a new song. Any old school Motown song is cool. It's some of my favorite music. I love the Temptations. It might have been my idea to record that. I can't recall exactly. Joey was really into it. The Temptations have a couple different vocalists on that song so it made sense. If you can believe this — when Joey and I have been around each other, we've always been pleasant with one another and we get along well. It wasn't awkward to do it was pretty fun.
Read more at Sleaze Roxx.
Watch videos for Win Hands Down and An Exercise In Debauchery below.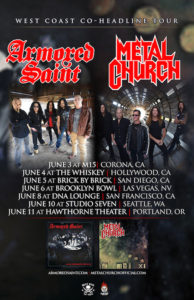 source: sleazeroxx.com