AXL ROSE SHOOTS TO THRILL WITH AC/DC IN LISBON, PORTUGAL, ENTIRE CONCERT POSTED ONLINE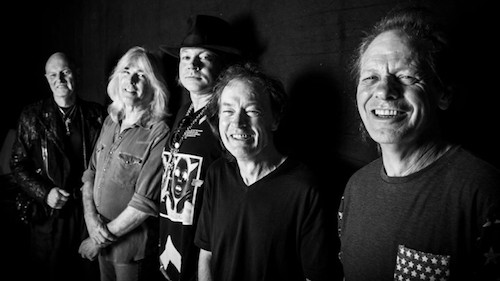 Mark Sutherland of Rolling Stone reports:
AC/DC must be starting to think someone up there doesn't like them. A catalogue of misfortune has beset this most enduring of hard-rock bands during the past two years. First, founding guitarist Malcolm Young stepped down from the band due to dementia. Then drummer Phil Rudd left in a haze of criminal charges. Most recently, singer Brian Johnson had to quit touring or face total hearing loss, while the band faced a backlash from fans unhappy at the manner of his departure and/or his superstar replacement: Axl Rose, singer of the newly reunited Guns N' Roses, and a man who recently faced some adversity of his own in the form of a fractured foot.
Rose just doesn't seem very AC/DC somehow. Like Johnson, the singer keeps a hat jammed to his head at all times, but there the similarities were expected to end.
Yet Rose actually seemed happy to play a different role here. From his opening greeting of "Nice to meet you!" – just five minutes later than billed – he was a deferential and pleasant presence between songs and an energized, brooding one during them. He remained seated throughout the main set, his leg still encased in a brace, but even his perch was more low-key than during the recent Guns N' Roses shows: It resembled a humble office chair that had been jazzed up at the last minute with a few lumps of metal and some devil horns.
But while Rose's body might be ailing, his voice remained in great shape. From the opening salvo of Rock or Bust, Shoot to Thrill and Hell Ain't a Bad Place to Be, it was clear that, musically at least, the GN'R man is a great fit for AC/DC.
…Rose seemed particularly at home on Bon Scott-era classics such as Dirty Deeds Done Dirt Cheap and High Voltage and happy to defer to Angus Young's all-action, duckwalking showmanship. Once Rose is mobile again – and that can't be far off, as he walked on and off the stage between encores – that dynamic may change, but for now, Young handled the heavy lifting, leaving Rose free to enjoy himself…and enjoy himself he did, self-deprecatingly introducing Shot Down in Flames as "a song they wrote about my life story"
Read more at Rolling Stone.
Watch the whole concert below.
Set List:
Rock or Bust
Shoot to Thrill
Hell Ain't a Bad Place to Be
Back in Black
Got Some Rock & Roll Thunder
Dirty Deeds Done Dirt Cheap
Rock N' Roll Damnation
Thunderstruck
High Voltage
Rock N' Roll Train
Hells Bells
Given the Dog a Bone
Sin City
You Shook Me All Night Long
Shot Down in Flames
Have a Drink on Me
T.N.T.
Whole Lotta Rosie
Let There Be Rock
Encore:
Highway to Hell
Riff Raff
For Those About to Rock (We Salute You)
source: rollingstone.com