BRAD WHITFORD & DEREK ST. HOLMES RELEASE FIRST SINGLES "SHAPES" PRE-ORDER ALBUM-GET BONUS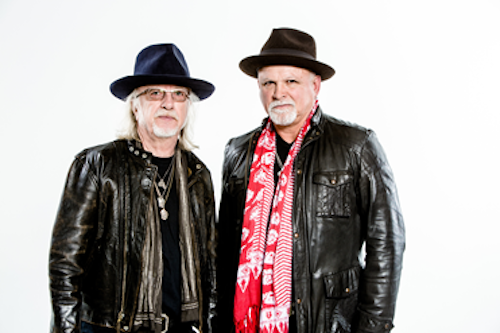 Whitford/St. Holmes have reunited and are set to release their new album, Reunion, on June 3rd. Today, the super duo are excited to unleash their first single, Shapes, a rock song with a nod to one of their favorite bands, The Yardbirds.
Whitford/St.Holmes features the two veteran rockers along with bassist Chopper Anderson, keyboardist Buck Johnson and on drums, Tesla's Troy Luccketta. On the stellar collaboration, Whitford explains, "(we're) all old-school rockers, super-passionate about rock 'n' roll, the music that moved us as teenagers."
When fans pre-order Reunion, they will receive the group's digitally remastered,self-titled debut as a bonus! Album pre-sale and first single, Shapes, can be purchased here.
Featuring Aerosmith guitarist, Brad Whitford and Ted Nugent vocalist/guitarist, Derek St. Holmes are ready to get on the road and perform these new songs that flowed so easily during the writing and recording session.
"Derek really encouraged me, made the process really easy," says Whitford of his lyric and songwriting. "A lot of feelings and emotions just kind of poured out of me."
It was 1981 when Whitford, who had left Aerosmith, first teamed up with Derek St. Holmes to release their self-titled debut. Tracks like Sharpshooter and Whisky Woman carried on the stadium rock 'n roll style that made them famous. The album received critical acclaim and they did a successful round of tour dates before returning to their respective bands and shelving the duo.
Recently, the two friends found themselves living in the same town on the outskirts of Nashville. While working on some catch up time, they decided to revamp their collaboration. After writing a number of songs, the duo recruited bassist Chopper Anderson, keyboardist Buck Johnson and on drums, Tesla's Troy Luccketta to record the album. Self-produced by Whitford and St. Holmes, the album was recorded at The Castle Studios in Franklin, TN.