ANDY BIERSACK, TAIME DOWNE, & MARK SLAUGHTER GUEST STAR ON THIS WEEK'S EPISODE OF VH1 CLASSIC'S "THAT METAL SHOW"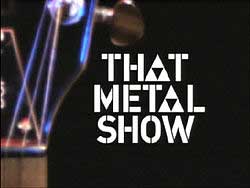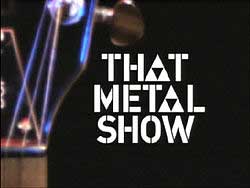 Episode 11 of season 14 of VH1 Classic's centerpiece in original programming That Metal Show is the second-to-last new episode of the current season. Returning to the show this week is Faster Pussycat's Taime Downe and making their TMS debuts are Black Veil Brides' Andy Biersack and Slaughter's Mark Slaughter. The guests sit down together with hosts Eddie Trunk, Don Jamieson, and Jim Florentine in a roundtable type setting; something the show has done a couple of times this season and has found to generate great conversations. Taime discusses his time in Faster Pussycat, working on a new album, and getting Eddie drunk on the recent Monsters Of Rock cruise. Andy talks about his love for That Metal Show, their recent appearance opening for Ozzy at Monsters Of Rock in Brazil, and unveils the new artwork and release date of their first-ever live DVD. Mark talks about being a member of the Vinnie Vincent Invasion and of course his band, Slaughter, as well as the release of his first solo album. Mark actually gives the entire audience a download card of the new release. The all-new episode of That Metal Show"\ airs this Saturday at 9:00PM ET/PT, repeating at 11:00PM ET/PT on VH1 Classic.
The episode also features the debut of Mike Orlando from Adrenaline Mob as the guest musician. Mike has appeared as a guest in the past but this is the first time he has played on the show. Mike talks about being on tour with Adrenaline Mob, the recent passing of drummer AJ Pero, the latest benefit show for AJ's family, and a completed album he has in the can with AJ on drums.
Taime, Andy, and Mark Put It On The Table and realize when asked what the first song they ever learned was they all have a serious KISS connection and appreciation. Eddie struggles through Stump The Trunk this week marking the return of Ms. Box Of Junk Jen after he went three for three last week. This week's Take It Or Leave It centers on the recent trend of band's airing their grievances in public evidenced by the recent statements from Ozzy Osbourne and Bill Ward of Black Sabbath. They all agree that social media, and the ease for artists to share their sides of the story, is best for the fans.
Checking in via Metal Modem this week is founding Judas Priest member, KK Downing. KK fills the panel in on what he's been doing since leaving Priest, talks about some upcoming projects, and unveils his new cologne line, Metal for Men. This week's Throwdown pits the legendary Judas Priest releases British Steel against Screaming For Vengeance. When the panel deadlocks, they reach out to KK on the modem to give the definitive answer. No one argues with one of the creators of both albums when KK makes his pick.
That After Show this week talks about everyone's pre-show rituals and warm-ups as Mike Orlando joins the panel. They reminisce about the most hammered they have ever been while performing and Andy recounts the time he broke his ribs during a promo performance in Los Angeles. Fans can watch all previous episodes and other exclusive bonus clips at ThatMetalShow.VH1.com and on the new VH1 app as well as the new That After Show segment.