ALTER BRIDGE ANNOUNCES AUGUST NORTH AMERICAN TOUR DATES WITH SEVENDUST AND MAMMOTH WVH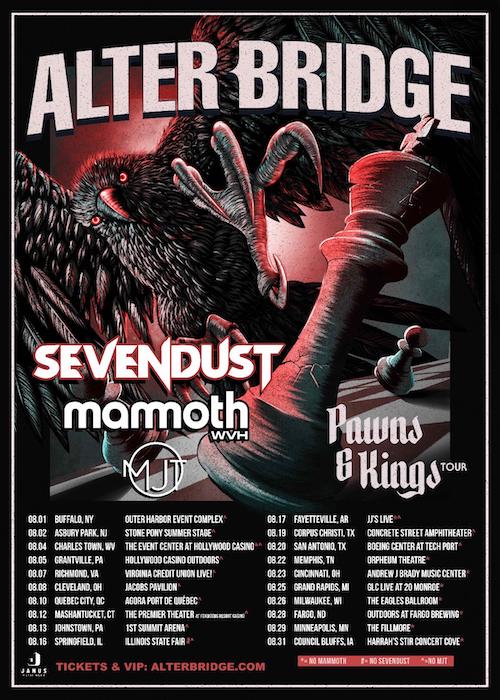 With the recent completion of their successful 30-city North American Pawns & Kings Tour, rockers Alter Bridge are announcing the next leg of dates in the North American market. Keeping the family vibe going from the last tour, longtime friends Sevendust and recent tourmates Mammoth WVH will be joining Alter Bridge on this run.
The tour kicks off August 1st in Buffalo, NY and end August 31st in Council Bluffs, IA. The tour will make stops in Asbury Park, NJ; Richmond, VA; Quebec City, QC and San Antonio, TX to name a few markets. MJT – the Long Island trio of brothers – will join the last seven stops of the tour. Tickets will be available everywhere starting Friday, April 28th. Complete individual routing, ticket information and VIP experiences for each band for the shows can be found on each band's website listed here: Alter Bridge, Sevendust and Mammoth WVH.
Tour Dates:
August:
1 – Buffako, NY – Outer Harbor Event Complex ^
2 – Asbury Park, NJ – Stone Pony Summer Stage ^
4 – Charlestown, WV – The Event Center at Hollywood Casino *^
5 – Grantville, PA – Hollywood Casino Outdoors ^
7 – Richmond, VA – Virginia Credit Union LIVE! ^
8 – Cleveland, OH – Jacobs Pavilion ^
10 – Quebec City, QC – Agora Port de Québec ^
12 – Mashantucket, CT – The Premier Theater (at Foxwoods Resort Casino) ^
13 – Johnstown, PA – 1st Summit Arena ^
16 – Springfield IL – Illinois State Fair #^
17 – Fayetteville, AR – JJ's Live *^
19 – Corpus Christi, TX – Concrete Street Amphitheater ^
20 – San Antonio, TX – Boeing Center at Tech Port ^
22 – Memphis, TN – Orpheum Theatre *
23 – Cincinnati, OH – Andrew J Brady Music Center *
25 – Grand Rapids, MI – GLC Live at 20 Monroe *
26 – Milwaukee, WI – The Eagles Ballroom *
28 – Fargo, ND – Outdoors at Fargo Brewing *
29 – Minneapolis, MN – The Fillmore *
31 – Council Bluffs, IA – Harrah's Stir Concert Cove *
* No Mammoth WVH
# No Sevendust
^ No MJT