EDDIE VAN HALEN'S "HOT FOR TEACHER" GUITAR SELLS FOR $3.9 MILLION AT AUCTION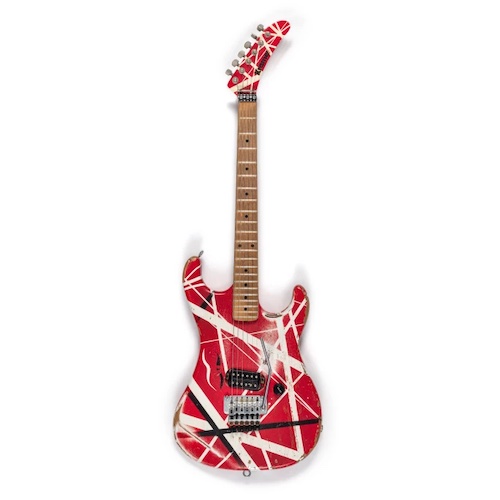 The guitar Eddie Van Halen used in the band's Hot For Teacher video, sold for $3,932,00 during an auction at Sotheby's.
The custom-made Kramer guitar had a minimum bid of $1.8 million, and was previously valued at between two and three million dollars.
According to Sotheby's, stage-used and -filmed guitar was custom made by Paul Unkert of Kramer Guitars for Eddie Van Halen, including important innovations customized for Eddie's evolving guitar technique. It served as one of Eddie Van Halen's primary guitars in 1983 and 1984. The guitar was gifted by Eddie Van Halen to the band's retiring drum tech Gregg Emerson around 1990. Emerson subsequently gave the guitar to his nephew, who sold the guitar to Neal's Music in Huntington Beach, California. Neal's Music then sold the instrument to its current owner.
The guitar comes with a letter of provenance by Unkert, a signed photograph from Eddie Van Halen, its original case with tour and Warner Brothers tags, and the strait jacket and white gloves worn by Van Halen in the video.
Unkert's accompanying letter details the guitar's history, "The Hot For Teacher Van Halen [guitar] was built by me at the Kramer Green Grove Road Plant in Neptune, NJ around 1982-1985/ #CO176. Look for 'Unk' stamps on Neck and Body. It was my last project for Ed and Kramer."
Hot For Teacher is on the Van Halen album 1984.