ALICE COOPER PLANS CLASSIC ROCK COVERS ALBUM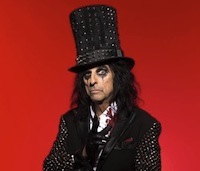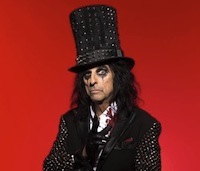 Steve Baltin of Rolling Stone spoke with the rock icon Alice Cooper. Portions from the interview appear below.
Q: You have dates coming up with Marilyn Manson. Have you toured together before?
A: No. In fact, the very first time I met him was in Transylvania. It was the weirdest thing. We had jousted in the press before a little bit, and we realized we were doing a show together in Transylvania, a big outdoor show, two miles from Dracula's castle. He walked by the dressing room and I said, "Hey, come here." We finally met face to face, and what we talked about was marriage, which was interesting. I've been married 37 years.
Q: And after the tour you start the covers album?
A: We do a thing in our show, which is a tribute to Hollywood Vampires, my drinking club. And it was Keith Moon, John Lennon, Harry Nilsson, Micky Dolenz – a very eclectic bunch of drunks. Half of them are dead, so we do four songs in the show in tribute to them. We do Break On Through, Revolution, My Generation and Jimi Hendrix's Foxey Lady. I just kind of said, "We've never done a covers album, let's think about that." So [Bob] Ezrin and I are kind of bouncing it around right now.
Q: What are some of the wish-list songs?
A: I would keep it right to about '73, '74. I don't want to just go anywhere. I want to keep it right in that sort of drunk era, so it's specific. I would say Break On Through, that's a really good rock track there. The other ones, think of it – Harry Nilsson, there's a lot of good stuff there that could be rocked out. I think of songs as being clay. Take a song like "Jump Into the Fire" and take that to a harder level, and that'll work.
Q:When will the album be out?
A: I think it'll be out next year. When the tour's over in December then we'll go right in the studio.
Read more at Rolling Stone.