ALICE COOPER INDUCTED INTO WHITE CASTLE HALL OF FAME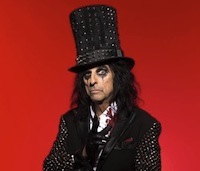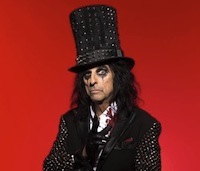 Dreams can come true, as rock icon Alice Cooper can attest, following his induction into the White Castle Cravers Hall of Fame at White Castle headquarters in Columbus, Ohio on July 7th, 2014.
As a child of Detroit, Alice learned to love White Castle's iconic sliders at an early age, and has never lost his taste for them over the years. He also learned to love rock and roll, and pursue his career in a band, and achieved induction into the Rock & Roll Hall of Fame in 2011.
Little did he know that another Hall of Fame, also in Ohio, was in his destiny.
Following a tour of White Castle headquarters led by Bill, Marci and Lisa Ingram (the company is a fourth-generation family-owned business), company VP Jamie Richardson conducted a brief chat with Alice in a room full of White Castle employees, including a band that performed some of Alice's songs (he actually JOINED them for No More Mr Nice Guy, much to their surprise), and then Alice was presented with a plaque commemorating his induction into their White Castle Cravers Hall of Fame.
Said Alice, "a lot of my fellow rockers are going to be envious of this honor." Asked how it compared to being inducted into the Rock & Roll Hall of Fame, Alice responded "there's no comparison," carefully ducking the question.
The stop at White Castle headquarters took place on a day off during Alice's summer tour as Very Special Guests to Motley Crue on their All Bad Things Must Come to An End tour, which plays the Schottenstein Center in Columbus tonight as part of the 72 show run. The summer tour continues through August 31st, and then resumes in autumn, October 10th through November 22nd.
Alice has often talked about his love of White Castle in interviews and on his syndicated Nights With Alice Cooper radio program, and served White Castle at the party following the premiere of the Super Duper Alice Cooper documentary at the Tribeca Film Festival in April in New York City. The documentary, produced by Banger Films (same team that produced the award-winning Iron Maiden and Rush documentaries), has recently been released in both DVD and Blu-Ray by Eagle Rock Entertainment.