ALICE COOPER AND JOE PERRY TALK ABOUT HOLLYWOOD VAMPIRES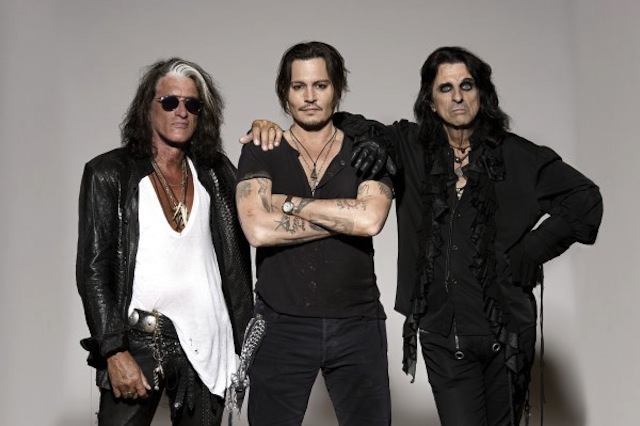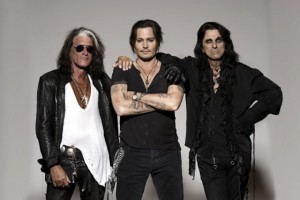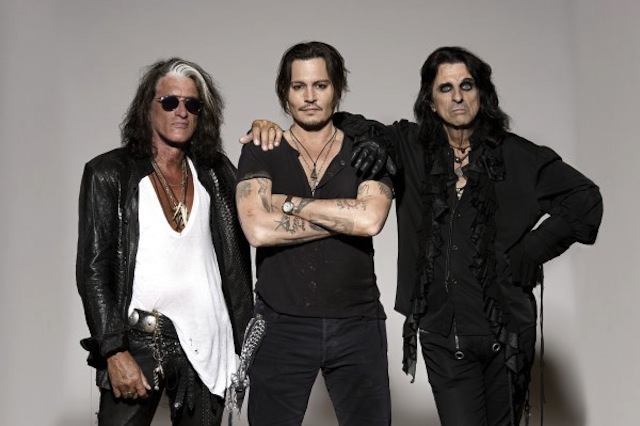 Ken Sharp of Rockcellar Magazine spoke with Alice Cooper and Joe Perry about Hollywood Vampires. Excerpts from the interview appear below.
Rock Cellar Magazine: Who were the key members of the Hollywood Vampires?
Alice Cooper: You mean the stalwarts? The stalwarts were myself, Harry Nilsson, Keith Moon, Bernie Taupin, Micky Dolenz. John Lennon when he was in town. There were guys who'd come in whenever they were in town like Ringo (Starr) who'd come in once in a while; he was a Vampire.
Rock Cellar Magazine: Share your most memorable experiences with Hollywood Vampire alumni starting with John Lennon.
Alice Cooper: John and Harry (Nilsson) were best of friends. Harry and I were friends and John and I were friends so I became the referee. I would sit between them and I would see that they were drinking. When John would say "black" and Harry would say "white;" English and the Irish, right? One guy would say "Republican" and the other guy would say "Democrat." One guy would say "War" and the other guy would say "Not War" and then pretty soon they'd be drinking enough where they would almost come to blows and I was in the middle going, Okay boys, sit down!" And I was extremely unpolitical. I told them, Guys, I'm not politically incorrect, I'm politically incoherent, okay?" (laughs)
Rock Cellar Magazine: Moving on from the '70s to current day, what sparked the idea to assemble a super group named The Hollywood Vampires?
Alice Cooper: This is kind of an interesting story. I was doing Dark Shadows with Johnny (Depp) in London at Pinewood Studios and we decided to play the 100 Club in London. The 100 Club is little club where acts like the Stones played and Jeff Beck and the Yardbirds played. I said, it would be great to go in and just do covers.
If anybody yells out Back in the U.S.S.R or somebody yells out Brown Sugar, they'd be almost challenging us to play those songs. I said to Johnny, "Why don't you get your guitar and come and play with us?" and he did. We started talking and I said for my next album I was thinking of doing a covers album as it's something I've never done before. We were talking about the '70s era and it came to me and I said, "Well, if you're gonna do a covers album, why not do a covers album as an ode to all of our dead drunk friends, all the guys that we drank with that are now dead? So let's just kind of confine it to that."
So you've got Jim Morrison, Jimi Hendrix, Marc Bolan, Harry Nilsson, John Lennon, Keith Moon and then we starred thinking about all the songs we could do. Then Johnny said, "Well, I've got a studio in my house." Joe Perry happened to be staying over at the house so the idea just kind of bloomed. And as soon as it did, I said, "I think Bob Ezrin would be interested in this" and it's not gonna be an Alice Cooper album; it's gonna be a Hollywood Vampires album.
Rock Cellar Magazine: Joe, what was the appeal of this project for you?
Joe Perry: Well, I kind of came in near the end of this project in a real sense and also in a kind of esoteric sense. I come from Boston so whenever Aerosmith wasn't on the road bumping into some of these guys, we'd be back home and there just wasn't that kind of a scene going. There was certainly a rock scene but we were always kind of outsiders even in Boston.
Rock Cellar Magazine: Johnny Depp is the dark horse of the project with naysayers in the press likely to cast suspicion about the merit of his musical abilities and write him off as an actor who's a musical wannabe, but Johnny is the real deal, right?
Joe Perry: I think he's probably equally as good a guitar player as he is an actor, only he's a better actor (laughs) if that makes any sense. The only reason is he just keeps getting better as an actor but he also keeps getting better as a guitar player too. I'm a huge fan of his acting; I can't tell you how many times I've watched his movies. But mostly we talk about music and just jam on guitars. We hang out in the studio, play guitar and have a lot of laughs and that's really what our friendship is based on.
Rock Cellar Magazine: There's a pair of originals that appear on the album, All My Dead Drunk Friends and Raise The Dead.
Alice Cooper: We were gonna write one original for the record but we ended up writing four or five of them. All My Dead Drunk Friends in particular sounded like a pirate drinking song. (sings "Oh we fight and we puke, and we drink and we fight..") (laughs) But that was pretty much the story; I'm sitting here in this place in a roomful of ghosts and he starts giving a toast, here's to all the wives and girlfriends and here's to all the road crew and here's to my dead drunk friends. It just sounded to me like an old pirate drinking song and it proved to be perfect for the record.
The other original song is Raise the Dead. It was just a song that myself, Johnny and Bob Ezrin and everybody sat down and wrote. I think we wrote five original but we didn't know which ones would actually end up on the album. I also did one song with Marilyn Manson that's probably gonna be on my next album. It just didn't fit this album as much as it's gonna fit my next album.
Rock Cellar Magazine: Fill us in the touring plans for the Hollywood Vampires.
Alice Cooper: We are playing a show in Rock in Rio. We're gonna go down to Rio de Janeiro to play a Hollywood Vampires show. We've got Duff McKagan on bass and Matt Sorum on drums and Johnny, Joe and myself. I like the idea of the band being open enough where anybody that's there can jump up and come in. We know the basis of the songs now so let's say we were playing on the same bill as Iron Maiden and Bruce Dickinson wanted to do a song, I'd go, "Great! Here's the arrangement, listen to it once. You take the fit verses and I'll take the second verse" or it could be Joe Bonamassa and I'd say, "Why don't you play lead on this?" Anybody that's around could go into any one of these songs and know them.
Rock Cellar Magazine: What does the future hold for the Hollywood Vampires?
Joe Perry: We don't know where this thing is gonna go. We haven't really talked about what's gonna happen with it. We're all excited about getting together and playing these tunes and then of course doing these shows and seeing what happens. I have to believe that because we're put so much time into the album and then into rehearsing and doing this shows that something else is gonna come up.
Read more at Rockcellar.
To listen to an audio video of the Hollywood Vampires covering The Who's, My Generation, please click here.
source: rockcellarmagazine.com