AIRBOURNE'S JOEL O'KEEFFE SAYS THE BAND WILL SCHEDULE NORTH AMERICAN TOUR DATES IN SUPPORT OF "BONESHAKER"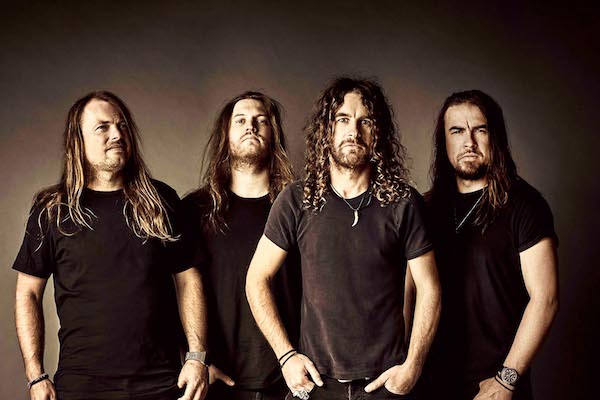 Robert Cavuoto of Sonic Perspectives spoke with Airbourne frontman Joel O' Keeffe, Excerpts from the interview appear below.
Sonic Perspectives: Tell me about the importance of writing great riffs CD after CD for Airbourne.
Joel O' Keeffe: We don't sit down to consciously write riffs, we just come up with them; other times you come up with s–t. If we gravitate towards a riff and keep playing it, we feel it has to be made into a song and be on the CD.
Sonic Perspectives: How long was the writing and recording process for Boneshaker compared to previous CDs?
Joel O' Keeffe: In the past, it's taken us about three months to write, where " Boneshaker only took five weeks. This time we went into the studio with nothing and a bit unprepared. This is Dave Cobb's way of doing things; to do it all in one shot, on the fly, and feel the inspiration of being at RCA Studio A in Nashville, Tennessee.
Sonic Perspectives: Airbourne's music has such global appeal, what is it about your songs that generates such a positive vibe county-to-county?
Joel O' Keeffe: I think rock & roll is people's universal language. People want to have a good time and forget about all the bulls–t that is going on in the world. Ultimately they want to have fun, and rock & roll does that. It's the same where ever we go. We are in Spain right now getting ready for a show tonight, and they are having a major uprising; we know a lot of people who are coming tonight that want to forget the s–t that's going on.
Sonic Perspectives: Any plans to record a live CD/DVD to capture the energy of the live show?
Joel O' Keeffe: The plan is to do it now that we have five records. Somewhere on this tour, we will likely record it. The venues are stepping up, so that's another reason for us to record. The crowds are mega rowdy too. It's weird with live DVDs or Blu Ray as people don't have the right equipment to play them, they end up putting it in a PlayStation 4. I'm a big fan of Blu Rays as the sound is better, the quality is better, there are no interruptions, and I like the physical nature of them. Bruce Springsteen recently performed Bruce Springsteen on Broadway on Netflix, and I don't know if it was a physical release but that is the way to do it. To have it on Netflix and then special edition DVDs or Blu Ray with some cool content around it, so it's not just the concert. These days you have to have all the extra stuff. It just takes time compiling all of that, making it cool, and then recording a Boneshaker live concert.
Sonic Perspectives: I saw you in 2016 but don't think you have been back to the US for a tour since. Will you be coming back to the US soon to support this CD?
Joel O' Keeffe: Just two days ago, I was on a call with our management and talking about the US and how we plan to get there. It's looking like it's going to be next year around May. It would be so great to get back there again. It's such a fun country to tour. I still remember all the times we would be on the road and pull into Walmart to take a break at 4:00 am before getting to our hotel. We would go inside and ride around on children's bicycles and kick balls around the store.  You can get whiskey and the little things you need. It's great to see the American countryside too; I love it. Everybody in America wants to do shots; wherever we go, they say, "Let's do a shot!" even before I get on stage. They tell me, "F–k all that s–t, have a shot!"[Laughing] I'm like "Ok," then I can really tear it up. [Laughing]
Sonic Perspectives: Are you thinking of touring America as a headlining act or as a support act?
Joel O' Keeffe: We are discussing a bit of both at the moment. It's mainly to go out as a headliner, but there were will be shows where we are a support. We are still putting everything together. Whichever way it is, I just can't wait.
Read more at Sonic Perspectives.
Airbourne's Boneshaker is out now. Listen to the title track here, and Backseat Boogie, here.